Introduction
How to keep wildlife safe when taking your dog onto the beach and coastal trails.
On this page:
What to do on beaches
Here's what you can do to help keep your dog and wildlife safe around beaches.
A wildlife scan makes a good game plan

Example of fur seals/kekeno being well camouflaged. There's a lot of seals in the background, can you spot them?
Image: Shellie Evans
Some of the wildlife on our beaches can be quite camouflaged. That sleeping fur seal/kekeno, or sea lion/pakake can look a lot like a log or bit of driftwood from a distance. Visually scan the area so you are always one step ahead of your dog and you can plan where to walk.
How to scan for wildlife
To help you scan, find out what wildlife is in your area. Our regional guides identify the main species found in each of the following areas and where to look for them:
A toy is a great decoy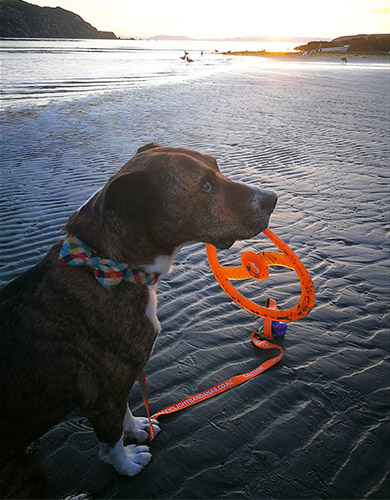 Keeping a dog toy close so you can keep their attention when there might be a distracting oystercatcher or other bird around
Image: Laura Boren ©
If your dog loves playing with toys, keep one handy so you can keep their attention when there might be a distracting oystercatcher or other bird around. Not all dogs love toys, but they all love something:
Find out what keeps your dog focused on you and you'll have no trouble keeping them safe when there are distractions around.
Help 'em out, give a shout
We can help the wildlife out by letting other people know that the wildlife is there. This is especially helpful for those animals who blend in with their environment.
By letting other people know where wildlife is, they then know what to look out for.
Seagulls are wildlife too
We normally think of the bigger or less common animals as wildlife. Like fur seals, or sea lions, or even penguins. But New Zealand is home to many species of shorebird and marine mammal, some rare and some common.
For example:
They all need time and space to rest, eat and raise their young. Our cheeky, red-billed gull needs some space too.
Different coloured leads
You might start noticing more traffic-light-coloured leads around the place because of Lead the Way. These are a bonus for dog safety as they let others know the temperament of your dog.
Green is friendly with dogs and people
Orange is caution sometimes nervous/reactive with new dogs or people
Red is often nervous or reactive with new dogs or people
Yellow is disabled so vulnerable to some interactions
It's always good practice to ask an owner permission first before approaching their dog – no matter what colour lead, bandana or collar a dog might be wearing, if they say no, please respect their dog's need for space.
Not all dogs like other dogs or people.
Where to go on beaches
Here's where to go on beaches to help keep your dog and wildlife safe.
Walk on the wet sand first hand

Areas like these sand dunes are often where shorebirds nest
Image: Daniel Deans ©
A lot of our coastal species rest or nest in the sand dunes, or driftwood high on the beach. Walk your dog on the wet sand and you'll be more likely to avoid any sensitive shorebird nesting areas or a slumbering sea lion/pakake.
Feet on sand – lead in hand
It's a legal requirement to have your lead with you in public. Even if you're exercising in an off-lead area, have it handy in case you need close control while you walk past a distraction.
Keep 20 meters away from coastal creatures
If you see some wildlife up ahead, put your lead on your dog and pass at least 20 meters away from the wildlife. This will help keep your dog and the wildlife safe.
Responsible dog ownership
Being a responsible dog owner means a lot of things to a lot of people. It covers everything from your dog's health, welfare and safety to awareness about where you can and can't take your dog, and how to keep them under control.
Dog welfare
As a responsible dog owner, you'll want what's best for your dog and to keep them safe in all scenarios. Accidents can happen when out and about exploring nature, at the dog park, or even in the home.
In addition to your responsibilities, like microchipping and registering your dog, as a pet owner under the Dog Control Act you can protect your dog by:
going on walks to help keep its mind and body healthy
training so you can be sure your pet is safe and obedient in public
annual vet check-ups and vaccinations
reporting wandering or lost dogs
being aware of and avoiding hazards within the environments your dog visits, and
getting pet insurance so that you don't have to choose between money and your dog's life.
Keep control
Part of being a responsible dog owner means keeping your pet always under your control. The easiest way to do this is to always walk them on a lead – like the 'Lead the Way' leads. Dogs need their exercise though so find out where your local off-lead designated areas are.
If you do let them off their lead, make sure you can confidently recall your dog. Especially in the event of a distraction like another dog, an excited child, a sleepy seal, or nesting dotterel.
If you cannot recall them, you might be legally responsible if your dog wasn't under control and:
is a nuisance or causes damage to a person
causes damage to another person's property including their pets, or
attacks protected wildlife.
Practice your recall regularly and mix up on and off lead walking so your dog sees it as normal and not a punishment.
Leave those toxic objects
There are several things in our environment that are toxic to dogs, from the food in our kitchen to the plants in our gardens. Things like aloe vera and karaka berries are toxic. There are also things at the beach to watch out for including:
toxic algae
puffer fish
sea slugs, and
blue bottles that may have washed ashore.
Even ingesting too much sand or salt water in a game of 'catch' can be dangerous to their health.
Use a 'leave it' command and leash your dog to avoid them ingesting something dangerous. It's a handy command around wildlife too.
Get a Lead the Way dog lead
You can do a quiz that will give you exclusive access to buy a Lead the Way lead. Lead the Way leads have been designed to provide a visual clue of the temperament of your dog. You'll also be showing your support for the protection of our precious wildlife.
Step 1: Complete the Lead the Way quiz
Test your knowledge of how to be safe with your dog and wildlife at the beach. All the knowledge needed is covered on the dogs on beaches webpage.
Step 2: Purchase a 'Lead the Way' dog lead
At the end of the quiz you'll get a link to purchase a lead. This will allow you to purchase an exclusive Lead the Way dog lead and to let others know you are wildlife wise.
Step 3: Use your lead
When walking your dog, use your 'Lead the Way' lead to help promote responsible dog ownership on our beaches and coastal areas.
Know before you go
If you're heading somewhere new, find out if it's dog friendly and more about that place before you go. There may be prohibited areas, on lead-only areas, or seasonal restrictions.
Beach wildlife in your area
The wildlife you might see on the beach depends on the area where you are walking. Know what animals to look out for in your area and how to spot them to plan ahead and keep wildlife safe.
How to identify the main species found in:
DOC tracks
Every webpage for a DOC track has clear dog access rules. Check before going to see if there are any dog restrictions. You can also find dog allowed tracks by ticking that option when searching for one.
Councils
Councils regularly update their bylaws, setting the rules for dogs. Signs can get out of date, for the most current information check your council website.
Several have interactive maps to show where you can and can't walk your dog. For example, like this one for Wellington City Council – WCC Interactive Map.
Get helpful resources and information
Check out the New Zealand Institute of Animal Management's website to get info that includes:
requirements to own a dog
dog rules
training your dog
keeping your dog safe
dog ownership questions.
The NZIAM represents professional animal management officers throughout NZ and provides an educational platform pulling together resources.