Pack tracks
In the early days of European settlement, tracks known as 'pack tracks' or 'bridle paths' were built to open up the back blocks for mining, farming, tourism and other commerce. Horses were commonly used to access timber and mining sites, as well as transporting goods and equipment throughout the country.
Stonework cuttings and rockwork were skilfully built using various traditional building techniques on the tracks, many of which are still used today. The Croesus Track, built between 1880 and 1899, is one of the best surviving examples of a pack track in New Zealand.
Moonlight goldfield
The Moonlight goldfield was one of the richest alluvial strikes on the West Coast and was famous for producing large nuggets. Stone heaps and evidence of water channels are obvious alongside the Moonlight walking track only a few minutes from the car park.
George Moonlight proved to be an excellent gold prospector, and his name was given to the area along with several other places throughout New Zealand. The Anderson's flat area was named after the Anderson family, one of a number of families that made a good living near the flat where the Moonlight Pack Track begins.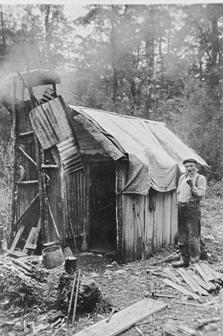 Andrew Gordon at his hut in Moonlight Goldfield.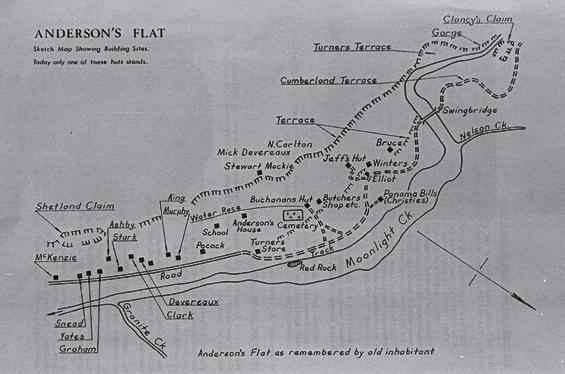 Image drawn by Tas Turner of Andersons Flat as it was in the early 1900s
The Croesus and Moonlight area was known for both quartz and alluvial gold mining and pack tracks were established to facilitate access to the gold mining areas.
Look out for relics such as:
19th century alluvial workings along the main Croesus Track
impressieve quartz mining remains at the Garden Gully Battery site (on a short side track off Croeus Track)
remains of the old aerial ropeway that transported quartz from the mountain down into Blackball Creek on Croesus Knob
Historic huts
Get a taste of what life was like for miners by visiting the historic Garden Gully Hut, the last of five huts built in Garden Gully in the 1930s. Or spend the night in the historic Croesus Top Hut, a basic hut on the Moonlight/Croesus Route.