A total of 25 km of tracks will be improved – creating a mix of short walks, day walks and the foundation for a multi-day walking experience at Taranaki Maunga.
A key focus of this project is to provide the maunga component for the 'mountains to sea' experience that Taranaki's economic development strategy Tapuae Roa is working to create. We want to enhance the visitor experience at Taranaki Maunga, while also limiting the impact of visitors to this beautiful location.
Tapuae Roa: Make Way for Taranaki project
Project funding and costs
Funding for this project has come from the Provincial Growth Fund ($13.3 million), which was announced in September 2019, and followed a feasibility study.
Additional funding to support the project will be provided by the Taranaki Regional Council, DOC, the New Plymouth District Council and New Zealand Transport Agency.
Timeframes
Work on the project began on 25 February 2020, following a dawn blessing involving iwi, DOC and representatives of stakeholder organisations.
The project comprises three distinct workstreams and is scheduled for completion in 2023:
An upgrade to 25 kilometres of tracks, including board walks, bridges, signage and rest stops at features
An upgrade or replacement of the Pouakai Hut and improvements to toilets along the upgraded walks
A new bridge across the Manganui Gorge.
The visitor experience
When the work is completed, the visitor experience on the mountain will reflect the relationship between DOC, mana whenua and the maunga itself.
The project will also strengthen connections to the maunga's natural and cultural heritage, enhance biodiversity and provide opportunities for local people, including iwi, to express their kaitiakitanga of the mountain by sharing their stories.
Economic impact
The Taranaki Crossing is expected to generate $3.70 million annually for the region's economy by 2025.
Up to 30 short-term jobs will be created through work to upgrade tracks, carry out safety work and rebuild the Pouākai Hut. It's expected there will be approximately 12 jobs directly created in the long term as a result of the Taranaki Crossing, with additional jobs created in support industries such as food and beverage and retail.
Project updates
Go to:
February 2021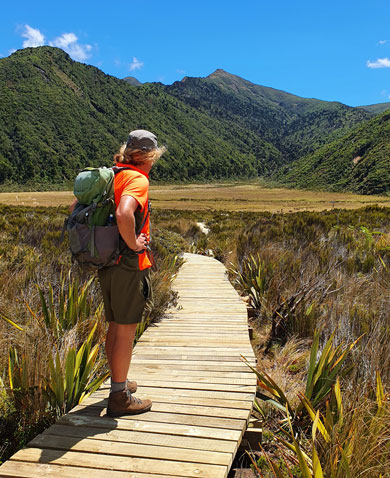 New boardwalk, Ahukawakawa Wetland
Image: Carl Whittlestone | DOC
We have completed upgrades on the 4.8 km track from Mangorei Rd end to the top of the Pouakai Ranges, resulting in a consistent quality track.
Work commenced on the Ahukawakawa and Pouakai Tarns boardwalks. The upgrade will consist of 720 m of 1.2 m wide boardwalks from the Pouakai Hut Down to the Pouakai Tarns, and 650 m of 1.2 m wide boardwalks across the Ahukawakawa Wetland. A karakia ceremony led by local iwi marked the start of this phase of the project. Environmental testing has been undertaken as part of this stage.
A visitor experience design waka wānanga has been completed with Ngā iwi o Tokomaru and Kurahaupō waka. These wānanga outlined the aspirations, project values, principles, experience outcomes and themes iwi have for the project.
Engagement has been completed with regional leaders, concessionaries, and other stakeholder groups.
Tenders for the Wilkies Pools to Plateau track upgrade have closed. We are working with the preferred supplier to finalise the contract and begin the construction work.
Coming up:
Signing of contract for Wilkies Pool-Stratford Plateau track. Works to commence in March/April.
Work on the Pouakai Boardwalks will continue through March and April with several shifts of workers going to site to complete the work. This will include some days of flying materials to site.
Aotea Waka experience design wānanga.
Preparation for further track works for 2021.
Begin the design work for the bridge over the Manganui Gorge and site assessments for the upgrade or replacement of the Pouakai Hut.
November 2020
We have awarded a contract for 1.4 km of boardwalks across Ahukawakawa and on the Pouakai ranges. Construction will start this summer.
Work commenced on the minor upgrades required to the remainder of the Mangorei Track to provide a good standard of track on the entire 4.8 km of the track from Mangorei Rd end to the top of the Pouakai Ranges.
The first visioning wananga on Taranaki Crossing Experience Design was in August. We were pleased with the good attendance and participation received for this hui. It included discussion on the project's values, principles, experience outcomes and themes, as we work toward creating a "must-do experience" for Taranaki.
We're excited about the appointment of Kerena Wano, Project Stream Lead – Strategic Engagement, to the team who started in early October. Kerena comes to the project with strong connections to Te Atiawa and Taranaki Iwi and a background of teaching and project management for cultural events.
Draft reports for the Geological Risk and Environmental impact work have been completed.
A report from Massey University on the Volcanic Hazard Assessment has been received. An eruption is likely to create a risk to damage of any infrastructure built, this will need to be factored in to design.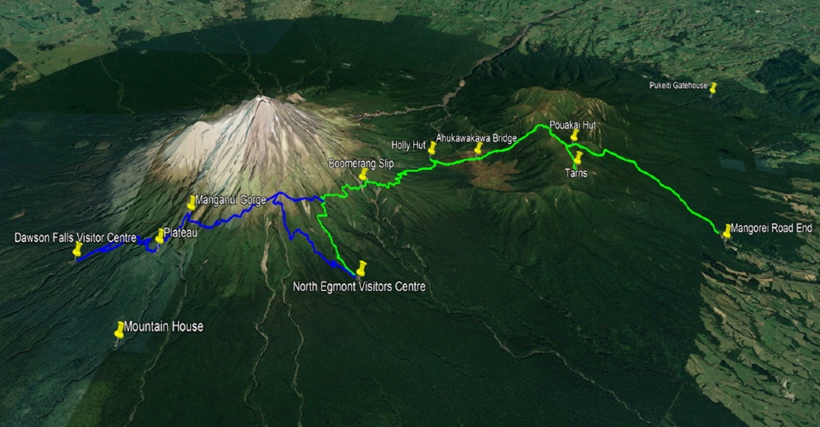 Route of the Taranaki Crossing: Green lines indicate tracks also part of the Pouakai Crossing, while blue lines show tracks that are not
June 2020
We're pleased to report the following developments:
We've upgraded 850 m of Mangorei Track with timber rafting. This is a significant improvement on what had been a particularly boggy section. Read the media release on the Beehive website about this milestone – issued in early June by Minister of Conservation Eugenie Sage and Minister of Regional Economic Development Shane Jones.
We're in the process of engaging assistance for the Taranaki Crossing Experience Design. We can then engage with Treaty Partners and stakeholders to determine the key elements of what will make the Taranaki Crossing an unforgettable, must-do experience for visitors that reflects what's important in Taranaki.
We've engaged Massey University to complete a Volcanic Hazard Assessment and finalising agreement with a supplier for Geological Risk Assessment. These are important pieces of work which are vital to our management of physical risks which are a factor given the landscape and environment we are working in.
We're continuing to plan and scope the boardwalks across Ahukawakawa Swamp and to the Pouakai Tarns.
April 2020
The Pouakai Crossing project now becomes part of the Taranaki Crossing, with additional funds available from the Provincial Growth Fund to complete the work. Substantial planning has been completed for Pouakai Crossing already, including:
A volcanic hazard assessment, to tell us how tracks and assets might be impacted if Taranaki Maunga erupts.
A geological risk assessment, to investigate the risks posed by landslides and rockfalls and recommend ways to manage these risks.
An environmental impact assessment, to look at the potential impacts of track upgrades on sensitive flora and fauna, especially in Ahukawakawa Swamp.
A cultural impact assessment, which considers the values that the local hapu, Ngā Mahanga a Tairi, wish to see upheld on the maunga.
Since funding for the Taranaki Crossing project was announced in September 2019, we have:
Continued a monthly working group with Ngā Mahanga a Tairi. This hapu supports the project team with input on planned investigations and construction within their rohe on the Pouakai Crossing.
Established a governance group made up of representatives from DOC, MBIE, Tapuae Roa and Ngā Iwi o Taranaki. The group has met monthly since January and works to ensure the overall success of the Taranaki Crossing project.
Established a project team – currently this is made up of a Strategic Projects Manager, a Senior Works Officer and a Project Coordinator. At least one further role will be recruited in the near future and this team will be working with a host of consultants and contractors to complete the project.
Developed a plan for how the overall project will be delivered, including schedules, budgets, resourcing and workstreams.
Facilitated a site blessing by iwi and started construction at the Mangorei Road end of the track. A local contractor has been engaged to deliver the work, which involves upgrading the track surface to eliminate wet, muddy sections and reduce track-adjacent trampling of vegetation by visitors.
Started planning for the design of the Taranaki Crossing visitor experience.
Questions
If you have any questions contact Carl Whittleston, Strategic Projects Manager - Taranaki Crossing, at cwhittleston@doc.govt.nz.