New Royal Cam chick makes first appearance
Archived content: This media release was accurate on the date of publication.
Introduction
The newest star of DOC's internationally renowned Royal Cam live stream has hatched to blustery conditions at Pukekura/Taiaroa Head on Otago Peninsula.
Date: 24 January 2019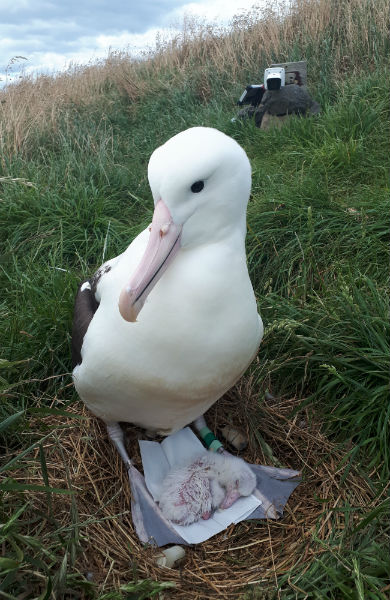 LGL and newly hatched offspring in front of the Royal Cam
Image: Jim Watts | DOC
Northern royal albatross/toroa chicks will spend the next eight months nesting before fledging.
"This is a chance for people to continue to follow the journey of the incredible albatross," says DOC's Threatened Species Ambassador, Nicola Toki.
For the fourth year running DOC has set up a web cam streaming 24/7 beside an albatross nest in the colony near Dunedin. This is the only mainland albatross breeding colony in the Southern Hemisphere.
Royal Cam has grown in popularity over the past three years, totalling more than 2.8 million views on YouTube from 191 countries. An engaged audience has left more than 123,000 comments on the Royal Cam chat forum.
The Royal Cam egg was laid on 6 November 2018 and since then the parents (known as LGK and LGL) have been taking turns on the nest. They will now continue to take turns feeding the chick for the next five or six weeks. They then leave the chick unguarded, except for feeding visits, until it fledges in spring. The sex of the chick is unknown at this stage.
Northern royal albatross have been nesting at Taiaroa Head for more than 80 years. The small population of birds travel as much as 190,000 km a year before returning to Dunedin.
"It's a dangerous world out there – these birds face a variety of threats to their survival, once they leave the relative safety of the colony.
"Global threats to our marine environment, including the growing impact of climate change on ocean temperatures and feeding grounds, as well as increasing impacts of plastic pollution in the sea, are just some of the many challenges these birds face.
"We've had birds regurgitate plastic fragments live on-camera that they've swallowed in the ocean. It's sad to see the impact of human behaviour on birds so close to home, but this is the reality of what these birds are dealing with once they leave the sanctuary of Taiaroa Head," says Toki.
The nesting area on the headland can reach 50 degrees Celsius in summer, and without a new irrigation system keeping the birds cool, both the adults and the chicks could die from heat exhaustion.
"We've all got our fingers crossed, as this little bird faces a raft of challenges in its first months. These include extremes of weather as well as threats from stoats and other pests, says Toki.
The popularity of this new celebrity is sure to draw thousands of albatross fans to the Royal Albatross Centre over the next year. A record 51 eggs have been laid, and while not all are viable, the team are hopeful a many will hatch successfully this season.
"This is a wonderful time to visit the colony as there are several nests within view of our observatory on the nature reserve," says Hoani Langsbury, Manager of Operations, Taiaroa Head for Otago Peninsula Trust.
DOC rangers are now incredibly busy putting in 12-hour days through the egg-hatching season to ensure these chicks have the best possible chances of survival.
You can watch the albatross chick on Royal Cam.
Watch the first weigh in video
Additional information
Northern royal albatross/toroa are an icon of Dunedin with a conservation status of 'at risk - naturally uncommon'. They are a taonga species for Ngāi Tahu. With a wingspan of over three metres, northern royal albatrosses are among the largest seabirds in the world.
In spring, the chicks will leave Taiaroa Head to spend 4-10 years circumnavigating the Southern Hemisphere.
The Pukekura/Taiaroa Head albatross colony is the only mainland place in the world to view northern royal albatross in their natural habitat. DOC manages the albatross colony with the support of the Otago Peninsula Trust, Te Poari a Pukekura (Pukekura Co-management Trust) and Dunedin City Council. It has grown from one breeding pair in 1937 to about 65 pairs in 2017.
10,000 seabirds also thrive at Pukekura/Taiaroa Head, including nationally vulnerable and threatened species like red-billed gulls and Otago shags.
DOC worked with the Otago Peninsula Trust, Pukekura Co-management Trust, Wellington City Council and Dunedin City Council to install the web cam.
Contact