Human interference ruled out for seal deaths
Archived content: This media release was accurate on the date of publication.
Introduction
DOC says human interference was not to blame for the deaths of more than 40 New Zealand fur seals/kekeno at a remote bay in Banks Peninsula at the weekend.
Date: 10 August 2018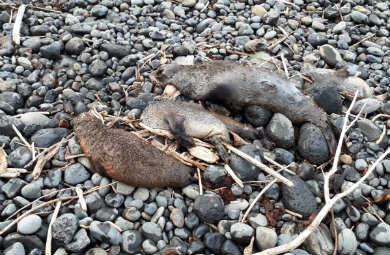 Dead seals at Te Oka Bay
Image: Alan McDonald, DOC
A ranger counted 41 dead seals at Te Oka Bay and sent six of them to Massey University for post mortem examination.
DOC's Mahaanui (Christchurch) Operations Manager Andy Thompson says the bodies were too badly decomposed to confirm the cause of death, but human induced mortality could be ruled out.
The pathologist report says there was no evidence of any likely human involvement in these mortalities, as there were no penetrating wounds or bruising.
"The report says it is possible these pups had died in a colony nearby and been washed up at Te Oka Bay in the large swells that occurred in a series of storms," Andy Thompson says.
"We think the seals had been there since early July. The most likely cause of death was heavy seas pounding the colony at that time when the seals were young and vulnerable and couldn't escape the big waves.
The event happened on the southern side of Banks Peninsula which is exposed to heavy southerly swells.
DOC staff will continue to monitor the area for any unusual events that affect large numbers of seals.
Around 8,500 kekeno live and breed around the Te Oka Bay area. Kekeno are the most common seals in New Zealand and their population of more than 200,000 is growing.
Contact