Generous donor funds new hut on the Waiau Pass Track
Archived content: This media release was accurate on the date of publication.
Introduction
Trampers crossing the Waiau Pass between Nelson Lakes National Park and St James Conservation Area will find the new 6-bunk hut Waiau Hut a welcome sight at the end of their 15 km trek.
Date: 23 January 2018
The new Waiau Hut in St James Conservation Area replaces the very basic 2-bunk Caroline Creek Bivvy. It was made possible by an inspired benefactor and the New Zealand National Parks & Conservation Foundation.
The donor, a keen recreational tramper, wishes to remain anonymous until the hut's official opening on Saturday 27 January. He said he wanted to give something back to the country's world-class DOC hut network, as well as the Te Araroa Trail initiative.
"I have been tramping in New Zealand for 40 years and used the hut system extensively; this is my way to thank all involved. I'm also a fan of long distance tramping and the Te Araroa Trail is such a fantastic initiative that I particularly wanted to contribute to this project by funding a new hut where it would be most needed."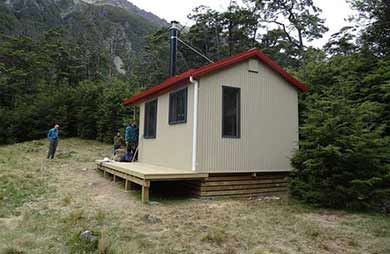 New Waiau Hut
Image: DOC
The sponsor approached the New Zealand National Parks & Conservation Foundation to fund and manage a suitable project. The Foundation is an independent charitable trust which promotes and provides opportunities for private philanthropy to contribute to approved conservation projects on public conservation lands as well as private or trust lands throughout New Zealand.
The Trust's Chair, Denis Marshall says the Waiau Hut proposal fitted the donor's criteria for funding and a new hut was a high priority given the increasing popularity of Te Araroa and the need for safer accommodation after crossing the 1870 m Waiau Pass.
"The Trust is honoured to have managed the donor's funds which have made this beautiful new hut possible, while also providing safer accommodation for trampers in this harsh back-country," says Mr Marshall.
DOC's Eastern South Island Director Andy Roberts, says this could be the only DOC hut funded solely by a living individual, although there have been a few huts funded through a legacy such as the Creswick Flat Hut in South Westland.
"We are always extremely grateful and appreciative of public involvement and contributions to our extensive hut and track network. In North Canterbury alone, we have nine recreation clubs, associations and individuals maintaining and repairing tracks and huts in partnership with DOC."
Official opening of the new Waiau Hut Saturday 27 January 2018
Bring family, friends and a picnic – all welcome. It involves a 4WD trip over Maling Pass in St James Conservation Area, followed by a 5 km walk to the new hut on the Waiau Pass Track.
10.00 am Leave Maling Pass car park for approx. one-hour 4WD to the next car park
11.00 am Follow walking track to Waiau Pass Track, and then onto the Waiau Hut
12.30 pm Arrive at Waiau Hut
1.30 pm Official opening followed with a picnic and billy tea
2.30 pm Depart for the car park
4.00 pm Depart car park for Maling Pass Track to Tophouse Road
5.00 pm Arrive at Maling Pass car park by Tophouse Road
Contact
Alex Foulkes, Senior Ranger Community, North Canterbury District
Email: afoulkes@doc.govt.nz
Mobile: +64 27 5677 345