Orange-fronted parakeet/kākāriki karaka
Introduction
Kākāriki karaka, or orange-fronted parakeet, are small forest-dwelling birds with an orange strip above their beak. It's our rarest parakeet with just a few hundred birds left in the wild.
Population: About 300-450 in the wild – the population fluctuates naturally
New Zealand status: Endemic
Conservation status: Threatened–Nationally Critical
Found in: Two alpine beech forest valleys in Canterbury (the Hawdon and Hurunui South Branch), Ōruawairua/Blumine Island in the Marlborough Sounds, and the Brook Waimārama Sanctuary in Nelson
Threats: Predation, habitat loss
Species information: Orange-fronted parakeet on NZ Birds Online
Did you know?
The rarest of our parakeets, they can breed for 18 months straight if food is plentiful.
Orange-fronted parakeet conservation
Restricted populations
Reports from the 1800s show that orange-fronted parakeets were once found throughout New Zealand. However, their distribution has reduced dramatically over the last century and the orange-fronted parakeet is now our rarest parakeet and forest bird in New Zealand.
The remaining populations are all within a 30 km radius in beech forests of upland valleys within Arthur's Pass National Park and Lake Sumner Forest Park in Canterbury, South Island. The easiest place to see them, although still difficult, is in the Hawdon valley in Arthur's Pass National Park.
Although kākāriki karaka are now confined to these few valleys, historic records suggest that in the later years of the 1800s, when beech seed was bountiful during mast years, the parakeets would have a breeding boom and disperse onto the Canterbury Plains.
Threats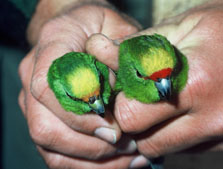 Orange-fronted parakeet (left) are similar to the yellow-crowned parakeet (right)
Introduced predators and habitat destruction are the main reasons for decline. Predators like stoats and rats are excellent hunters both on the ground and in trees and prey on parakeets as they nest and roost in tree holes. Eggs and nestlings are also preyed on by possums, and cats love catching unsuspecting fledglings.
Orange-fronted parakeets are especially at risk from rat and stoat plagues caused by beech forest seeding or masts. We lost 85% of one valley population due to a single rat plague in 2001.
Vast areas of native forest have been felled or burnt off by humans, decreasing the area available for parakeets. Possums, deer and stock add to the problem by browsing on plants and changing the forest structure.
Predator control
DOC protects orange-fronted parakeets through its National Predator Control programme. This includes extensive trap lines and aerial 1080 poison when rodent numbers rise to potentially damaging levels.
1080 poison is used to protect birds in New Zealand and to maintain the health of forest ecosystems.
Nine parakeet nests in the Maruia valley were monitored though a 1080 operation designed to suppress a rat plague in November 2009. One nest was eaten by either a rat or a stoat but the other eight were fine. Without 1080 we would have no viable orange-fronted parakeet populations left on the mainland.
In places where 1080 has not been used to stop rat plagues, entire populations of parakeets have been destroyed by predators.
Research and monitoring
We aim to ensure the survival of orange-fronted parakeets both on the mainland and on predator-free islands. All known populations are closely monitored. Research focuses on their breeding by doing nest searches and inspecting the nest holes for their level of fledging success.
We intensively monitor and control rats, stoats and possums to keep numbers to low levels. Monitoring of predator numbers is undertaken year-round and sites are intensively monitored during beech masts years when rat plagues are likely to occur.
Captive breeding programme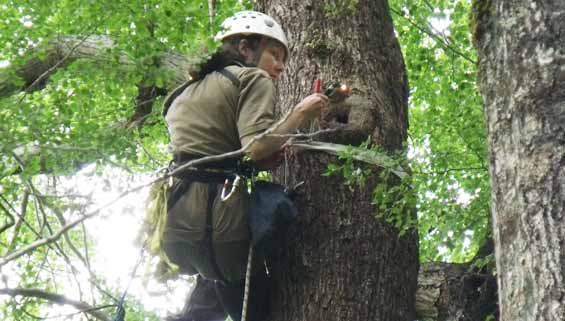 Lucy Garrett checking an active nest, Poulter Valley
Image: John Kearvell
We work in partnership with The Isaacs Conservation and Wildlife Trust in Christchurch to raise orange-fronted parakeets in captivity.
A captive breeding programme was started in 2003, when eggs were taken from the wild and foster birds successfully raised the off-spring. Since then The Isaac Conservation and Wildlife Trust has bred and raised more than 400 orange-fronted parakeets for release on predator-free islands and back into Canterbury valleys. We also harvest eggs from the wild to maintain the genetic diversity of the parakeet population.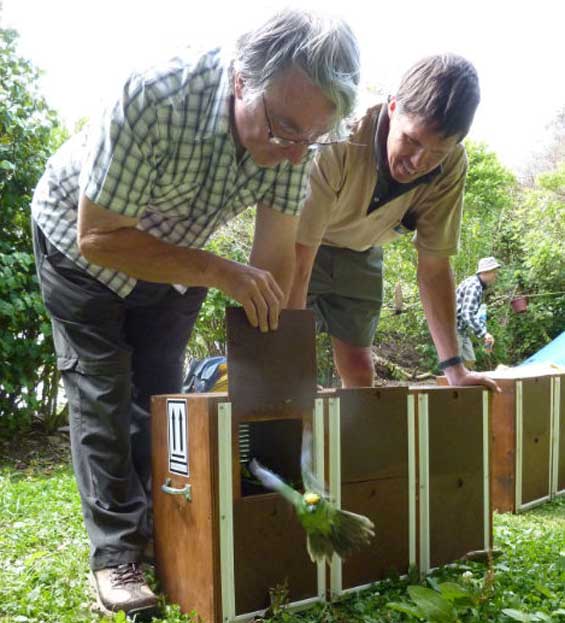 Orange-fronted parakeet release at Blumine Island
Image: Bill Cash
Donate
Christchurch Helicopters has partnered with the New Zealand National Parks and Conservation Foundation (NZCF) and DOC to help save orange-fronted parakeets. NZCF is a charitable trust that holds donated funds so donors have independent assurance they will be applied to DOC's orange-fronted kakariki recovery programme.
Donate on Christchurch Helicopters website.
Emergency hotline
Call 0800 DOC HOT (0800 362 468) immediately if you see anyone catching, harming or killing native wildlife.
On your property
Trap predators on your property.
Be a responsible cat owner.
In your community
Find and volunteer with your local community group
Trap predators in your community
Get kids or schools involved
See Predator Free 2050 Trust - get involved for information.
Visiting parks, beaches, rivers, and lakes
Leave nesting birds alone.
Use available access ways to get to the beach.
Avoid leaving old fishing lines in the water.
Follow the water care code and local navigation bylaws.
Do not drive on riverbeds, or keep to formed tracks if you have to.
Check for pests if visiting pest-free islands.
With your dog
Only take dogs to areas that allow them, and keep them under control.
If you come across wildlife put your dog on a lead and lead it away.
Warn other dog owners at the location.
Notify DOC if you see wildlife being harassed by people or dogs.
Get your dog trained in avian awareness.
Learn about the Lead the Way programme which encourages dog owners to become wildlife wise and know how to act to protect coastal wildlife.
Specific ways to keep wildlife safe while with your dog on beaches.