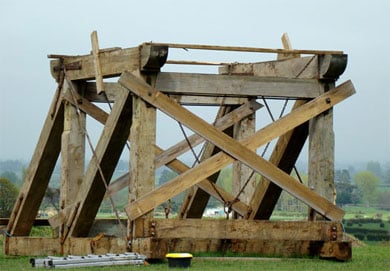 The headframe was built to match the original infrastructure
Image: Barbara Strange | DOC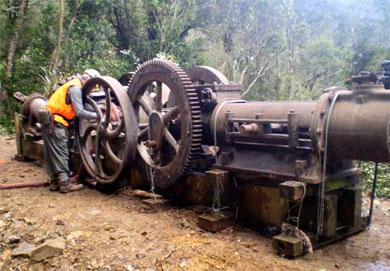 The finished compressor unit in place on the tramway
Image: Jeff Milham | DOC
The Piako County Tramway was built in 1882-83 to shift ore carts. It is New Zealand's oldest bush tramway with the original rail still in place.
It features three self acting inclines, of which Butlers Incline is 400 m long and at 25 degrees is very steep.
Much of the machinery and associated workings are still visible today and can be explored on Waiorongomai Valley tramping tracks.
There are a number of historic areas to explore in the valley, such as Hardy's Hut, Fern Spur incline and winding gear, the Bendigo Battery, the Low Level Drive, and the May Queen Incline and winding gear.
DOC's work
DOC staff have restored the tramway, including retrieving, treating and repairing historic steelwork and lifting the old rail onto new sleepers to reduce deterioration.
The finishing touches to the restoration were made in 2009. DOC brought in a helicopter to install a re-constructed headframe, and shift historic winding gear and a compressor into place along the tramway. The items weighed more than 3.5 tonnes each.