Introduction
Take all rubbish with you and use toilets where provided.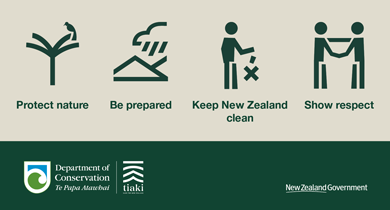 Care for Aotearoa
Help keep our natural environment free of litter. Litter harms our environment and wildlife. This includes food scraps, which feed pests like rats, stoats and mice.
Be prepared to carry your litter away with you. There are no rubbish bins in the bush. It helps to come prepared with a container or bag for rubbish and to remove excess packaging before you go.
There aren't many toilets in our wild places. Always use a loo when you can. Make sure you know what to do if you get caught short and can't wait for the next loo.
Like all waste, it's important to properly dispose of used period products when tramping. Take used tampons and pads away with you, and know how to properly empty menstrual cups in the backcountry.