Ratty discovery opening cadets' eyes to conservation opportunities
Archived content: This media release was accurate on the date of publication.
Introduction
Finding a dead rat outside their classroom was a highlight of week nine for trainees in the Bay Conservation Alliance's Tauira Mahi programme, but it wasn't a surprise.
Date: 13 April 2021
The rat had been planted and was there to showcase the work of conservation dog Sassy and her handler Greg van der Lee.
Greg is a Department of Conservation ranger and full-time dog handler in the Conservation Dogs Programme (CDP).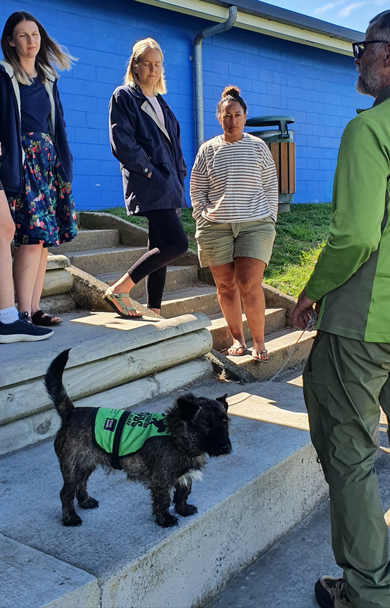 Tauira Mahi cadets Gaia O'Hare, Hayley Reber and Monique Nee Nee discuss the finer points of pest detection with Department of Conservation ranger Greg van der Lee and Sassy
Image: Steve Brightwell | DOC
He and Sassy were just the latest guest speakers in a line-up of 30 planned for the cadets' 48 day course which is part of the Government's Jobs For Nature programme.
Based in Tauranga and funded over five years by the Ministry for the Environment, the course will provide basic training for up to 150 people who want to work in conservation, environmental restoration or protection.
Exposure to the very wide range of roles which contribute to those outcomes is one of the hallmarks of the course, according to Education & Training Manager Brian Ireland.
"We try to get people in to show them everything that's involved in conservation, from GIS, full range of outcomes monitoring including freshwater monitoring and species, riparian planting, predator control etc."
For his part, Greg was there to tell them about the important pest surveillance work he and Sassy undertake and how that contributes to biosecurity – especially on islands and in sanctuaries.
While Sassy adopted a "heard-it-all-before" pose, Greg told cadets about the development of the CDP and how it has entered a new age of professionalism in the past five years.
The CDP now holds regular training camps which Greg says offer a great opportunity for anyone interested in being a conservation dog handler to come along and see what it is all about – probably even before they commit to getting a dog.
"You might find it's not for you – the handler role also includes things such as public speaking, so it's not all about going bush with your best friend."
On that, Greg says Sassy is not his best friend in the usual dog sense.
Although the pair have a great bond, at the end of the day she is a working dog and has to earn her keep by being an effective and efficient detector of her target species.
And with that, it was time for a demonstration in which even a carefully hidden dead rat was easily and quickly detected.
The first intake of Tauira Mahi cadets graduated on April 8 with just possibly one or two now harbouring thoughts of a career with a dog at their side.
Contact