Taranaki truck driver saves kiwi chick
Archived content: This media release was accurate on the date of publication.
Introduction
A Taranaki kiwi chick is lucky to be alive thanks to a truckie who saved it from a stoat attack.
Date: 16 December 2019
Alan Pennington from Jones Quarry had been driving along the remote Waitaanga Road in North Taranaki when by chance he happened to be in the right spot at the right moment.
"I was just going past a papa bluff when I happened to look down and see something in the water table and thought "what the hell is that?" It was a stoat attacking a kiwi!"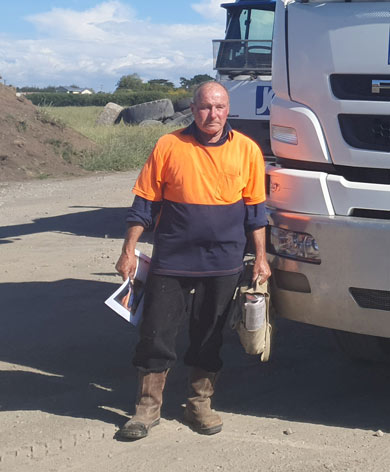 Truckie Alan Pennington happened to be in the right place at the right time to save a kiwi chick
Slamming on the brakes, he jumped out of the truck and stomped his foot on the stoat which promptly spun around and bit the end of his boot.
"I grabbed the kiwi, booted the stoat and jumped up into the cab. The poor little guy was covered in papa mud and very dirty. I wrapped him in a rag and popped him in my lunch bag to keep him safe and calm."
A return trip past the spot saw the stoat still searching for its prey. "It made me realise what focussed killers' stoats are."
Alan rang the Department Of Conservation hotline and a local ranger picked the kiwi up and took it to Massey University's Wildbase Hospital in Palmerston North.
Pauline Nijman from Wildbase says the kiwi chick, estimated to be around two months old, is doing fine.
"It had grazing and bruising, particularly around its neck and face so we are treating its wounds and have it on antibiotics. Barring any complications, it can be discharged soon to a creche."
The kiwi, who weighed just over 500grams when it went to Wildbase, will stay at a predator free creche until it is above 1kg in weight. Kiwi of this size are better able to defend themselves against stoat attacks.
Report conservation emergencies to 0800 DOC HOT (0800 362 468)
Stoats are the biggest threat to kiwi chicks, says DOC Taranaki operations manager Gareth Hopkins.
"Stoats are responsible for most kiwi chick deaths on mainland New Zealand. Without protection, only 10% of kiwi chicks survive to the age of six months.
"It was fantastic that Alan just happened along at the right moment and took action. He's saved the life of this young kiwi."
Contact