Pygmy sperm whale dies at Raglan
Archived content: This media release was accurate on the date of publication.
Introduction
DOC and local iwi made the decision to euthanise a pygmy sperm whale, suspected of stranding itself, at Te Kopua near Raglan.
Date: 18 February 2019
The pygmy sperm whale washed up at Te Kopua, Raglan, on Sunday afternoon was "not comfortable." This was how local iwi described the whale to DOC marine ranger Garry Hickman as he made his way to the site of the stranded whale with a small crew of DOC rangers.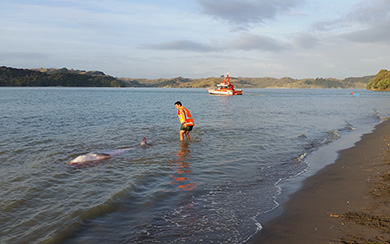 DOC ranger Pearson Tukua waiting to attach a line to the whale from the coastguard boat
Image: DOC
It is suspected that this was the same whale that had been re-floated less than an hour earlier. A local resident who reported the first stranded whale, described markings near the tail which were consistent with the whale on the beach at Te Kopua.
DOC rangers, local iwi and others agreed that it would be kindest to euthanise the 3 m pygmy sperm whale.
"While most of us would have preferred an outcome where the whale swam away, it didn't eventuate", said Garry Hickman. "What was necessary had to be done, basically."
As the tide came in, DOC staff gently nudged the whale out to sea. It returned and became exhausted, ejecting a reddish plume into the water when approached.
It was early evening when the whale was euthanised by DOC staff. By then the tide had come in enough for the Coastguard boat to almost reach the beach and throw DOC ranger Pearson Tukua a line.
Pearson Tukua put a strop around the tail of the whale and the Coastguard boat towed the whale out to sea, "this was the best thing really because it can just decay naturally at sea."
DOC would like to thank everyone who helped with the stranding. "We are grateful to the local resident who first reported it, and for the support of Whaingaroa iwi, Raglan police, the Coastguard and the members of the public who helped throughout the day to provide assistance to the whale".
Contact