Meet the DOC Whanau at Te Matatini
Archived content: This media release was accurate on the date of publication.
Introduction
Rangers and staff from DOC will be part of Te Matatini ki te Ao 2019 celebrations at Westpac Stadium in Wellington this weekend.
Date: 21 February 2019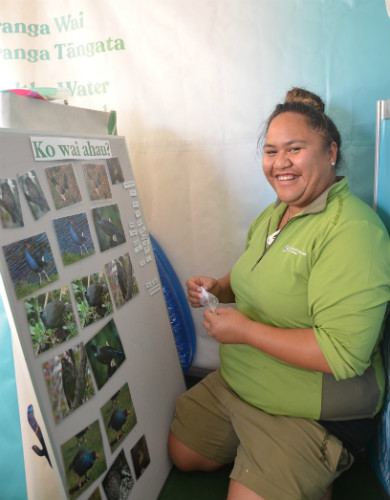 Ranger Gemma Wright sets up the DOC stall at Te Matatini
Image: Lee Barry | DOC
But they will leave the kapa haka performances to the experts, and instead invite visitors to kōrero with them about being kaitiaki for our whenua and wai.
Aroha Hughes, Community Ranger for Te Matatini, says the event is a huge celebration of Māori culture and a great opportunity to kōrero kanohi ki te kanohi (face to face) with people from around the world.
"We will get a huge buzz from being part of this festival of te ao Māori.
"At DOC we share the deep sense of kaitiakitanga for Papatūānuku. We'll be there to share our experiences of working at Te Papa Atawhai - and want to invite anyone and everyone to visit our stall."
The stall is part of Ngā Kaihautū, the Government village, and features displays of te wao nui o Tāne and te wao nui o Tangaroa (flora and fauna from land and sea).
"Mokopuna can play interactive games to identify all the creatures of Tāne by their Māori names and 'fish' for litter and pests to clean up our wai," says Aroha, with plenty of prizes and giveaways including board games, badges, magnets and stickers.
"Caring for nature means caring for people too. Starting with our mokopuna, we are keen to engage with anyone who has a pātai (question) or tākupu (comment) about DOC's work or about te taiao."
"A special part of the Conservation Act – DOC's guiding legislation – recognizes Te Tiriti and requires DOC to give regard to its principals in every part of our work. The fact that we work on, and for the whenua and wai also means we have a special connection to te ao Māori."
Background information
Te Matatini ki te Ao, Kapa Haka festival
20 - 24 February 2019
Westpac Trust Stadium
Contact