Taupo Fishery Photo Competition winners
Archived content: This media release was accurate on the date of publication.
Introduction
Four lucky photographers have won a Taupo Region Fishing Licence of their choice in a DOC competition which closed on Friday 11 May.
Date: 16 May 2018
The winners are James Fuller, Zipporah Dela Cruz, Oliver Bassett and Ron Whiteley.
James Fullers' photograph will feature on the front of the 'credit card style' season licences, while the other photographs will be used to illustrate other licence categories and formats.
The judges were impressed by the variety and quality of the photographs submitted.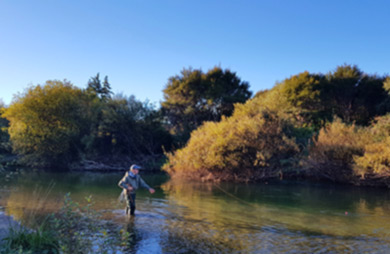 Winning image from Zipporah Dela Cruz ©

Winning image from Ron Whiteley ©
DOC Community Ranger James Barnett has a background in design and communication, and he was on the judging panel.

Winning image from Oliver Bassett ©
"We enjoyed reviewing the entries - the variety was great with subjects ranging from moody, atmospheric landscapes to fun, family snaps. Ultimately the judging panel had some tough choices to make but we are very pleased with the outcome.
"This year we decided to pilot the idea of a photo competition, using social media. Following this successful experience, we will look at scaling things up for next year, giving more people the opportunity to share their photographs and win a fishing licence."
James added that it's a particularly useful prize given the new fishing season is rapidly approaching and starts 1 July 2018.
Other anglers will be able to buy their 2018/19 Taupo Region Fishing Licences online from late June.
A variety of licence categories are available to suit the diverse needs of anglers. Go to the Taupō Trout Fishery website for more information.
Contact
James Barnett, Community Ranger, DOC Fishery Management Team
Mobile: +64 27 605 2069
Email: jbarnett@doc.govt.com