Ongoing vigilance for Ulva island invaders
Archived content: This media release was accurate on the date of publication.
Introduction
Ulva Island's intensive trapping network has stopped a rampage of rats in their tracks this summer after five unrelated rodents were caught on the island's coastal network.
Date: 27 March 2018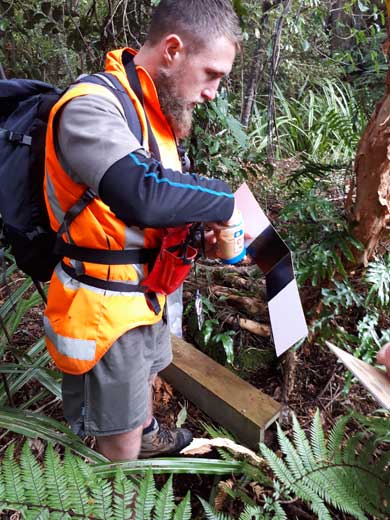 Trainee Ranger Troy MacDonald checks a tracking tunnel card
Image: DOC
DOC is calling for ongoing vigilance with island biosecurity in response to high rodent counts on mainland Rakiura/Stewart Island.
Senior Ranger Biodiversity Kevin Carter says the Rakiura team have been working hard this summer to keep Ulva Island predator free.
"Ulva Island is a predator-free sanctuary just 800 m from mainland Rakiura – easy swimming distance for rats. This means it's particularly susceptible to incursion during the summer and autumn months and this year the rodent numbers are high."
"Normally we expect to catch one or two rats in the coastal network on Ulva Island per year. Recently however, five rats were caught in a little over a month.
"DNA analysis from EcoGene has determined that the rats were unrelated to one another which increases our confidence that we don't have resident rats breeding on the island."
DOC Rakiura has reprioritised their field work so that a large team can work on the island in efforts to intercept further arrivals and/or resident rats.
They've been doing daily surveillance of the island's traps, tracking tunnels, wax tags, chew cards, cameras and checking for rodent sign. Additionally, three rodent-detecting dogs have been scouring the island's interior to help determine whether any rats made it inland, Kevin Carter says.
"The recent genetic analysis, dog team survey results and increasing time since our last rat was caught two and a half weeks ago are a positive indication that it's likely that we don't have resident rats on the island."
Effective biosecurity requires on-going surveillance to the highest standard, and as long as there are rats on the mainland, the work protecting Ulva Island will continue, Kevin Carter says.
"Ulva Island is a special place both ecologically and socially. The Department and the community here have worked hard to maintain the island's predator free status so we respond to any incursion as quickly and effectively as possible. With so much at stake, we're not leaving anything to chance."
Background information
Ulva Island
Ulva Island/Te Wharawhara (266 ha), located in Paterson Inlet, is a key eco-tourism destination for visitors to Stewart Island. It is visited by 20,000 – 30,000 people per year.
It is one of the few predator-free open island sanctuaries in New Zealand, meaning no permit is required to visit the island.
Rats were initially removed from Ulva Island in 1995 and it is now home to many endangered birds, including South Island saddleback/tieke, rifleman/titipounamu, yellowhead/mohua, Stewart Island robin/toutouwai and the Stewart Island brown kiwi/tokoeka.
Most of the island is part of Rakiura National Park and the remaining 7.6 hectares, between Post Office Bay and Sydney Cove, while privately owned, is mostly accessible to the public.
Rat control on Ulva Island
A major eradication of Norway rats took place on Ulva Island in 1995.
In 2010/11, a rat incursion resulted in an established breeding population on the island. An eradication operation took place over the winter of 2011 and the island was rat-free again in 2012. In 2013, three rats were found in traps and a rat control operation over several months was successful.
Contact