Archived content: This media release was accurate on the date of publication.
Introduction
DOC is marking World Ranger Day by launching a new uniform for its frontline rangers that is more comfortable and offers greater protection from the elements.
Date: 31 July 2018
DOC Deputy-Director Operations Mike Slater says the more functional uniform ensures more than 1,200 DOC rangers have the right gear to carry out their essential frontline conservation work.
"Rangers are out there in all conditions trapping predators, tracking threatened species, servicing huts, maintaining tracks and doing other tasks. They work in diverse and tough environments, from the sub-tropical Kermadecs to the subantarctic islands, and from the mountains to the sea.
"The new uniform range has been designed to specifically fulfil the needs of DOC staff working in New Zealand with one of our own rangers, Mat Nalder, doing most of the initial design with input from other DOC staff. Mat had a global career in design and procurement of outdoor gear before he joined DOC in Golden Bay," says Mr Slater.
The last uniform was introduced in the mid-1990s with items added over the following two decades.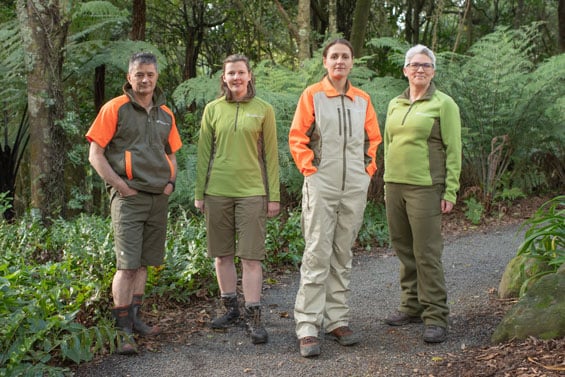 DOC staff members wearing new high-vis clothing and durable overalls
The new, more fit-for-purpose uniform incorporates more modern high-performance materials and performance features. It utilises an outdoor wear layering system that allows rangers to layer their work clothing as needed for the job they're doing and the conditions. The range includes clothing for UV protection and insulation, heavy-duty work wear and more high-visibility items for safety.
The new range continues the traditional green colour of ranger uniforms but has added grey and high-visibility orange elements and Māori kōwhaiwhai patterning details.
"DOC's rangers are at the core of what we do and equipping them with a new uniform on World Ranger Day is a fitting tribute, recognising their service to New Zealand's nature and public, says Mr Slater.
Rangers who work in the field are the first to wear the new uniform, in a three-year rollout of the new range. Office-based staff who wear a uniform, including community rangers and administration officers, will get their new uniforms next year and thermal wear and technical rainwear will be issued the following year.
The cost of the uniform replacement is spread over four years with a total budget of $4.73 million. This covers supply of the new uniform, re-purposing of the old uniform and other project costs.
Background
In addition to the new uniforms for more than 1,200 rangers, temporary staff in uniformed roles will also be outfitted with new uniform items as will a high number of casual staff employed for biodiversity work and at visitor sites, particularly over the busy summer period. Many other DOC staff will also get some uniform items, such as scientists and technical advisors whose role includes some field work for which they wear a uniform. The number and range of uniform items being issued to staff members varies depending on their roles.
The new uniform for rangers who work in the field includes fleece jackets, work shirts and pants, heavy-duty overalls, high-visibility safety vests, lightweight sun-protective clothing and hats.
Some old uniform items will continue to be worn until the full new range has become available over the three years.
Old DOC uniform items are mostly unisex. The new uniform has separate men's and women's styling to provide a more comfortable and functional fit.
Work began on replacing the uniform in 2015. Prior to this, a uniform review that sought staff feedback identified inadequacies with that uniform. The design and development of the new uniform took account of the staff feedback and other comments from staff. There was also input from a working group that included uniformed staff members and staff with industry experience.
The decommissioned uniforms will not be wasted. While no final decision has been made yet options include donating de-branded clothing or recycling the material. We are considering which option is the most sensible sustainable one.
Contact