New device to give crafty kea ultimate protection from traps
Archived content: This media release was accurate on the date of publication.
Introduction
Newly-designed parrot excluders will be fitted to Goodnature A24 automatic traps as a precaution to ensure kea aren't unintentionally harmed.
Date: 10 October 2018
DOC says newly-designed parrot excluders will be fitted to its Goodnature A24 automatic traps this summer as a precaution to ensure kea aren't unintentionally harmed interacting with them.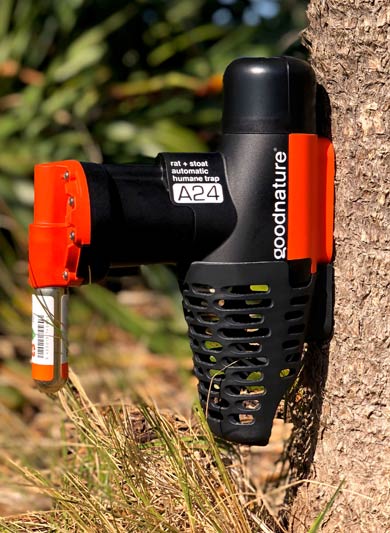 Goodnature A24 with parrot excluder
DOC and Goodnature, the conservation technology company, developed the excluders after concerns were raised about the potential for the inquisitive alpine and forest parrot to be hurt interacting with the traps.
While there is no record of kea being harmed by an A24, DOC scientists assessed that these traps in their original design could pose a risk to these inquisitive birds.
The A24s are used to control stoats and rats which predate these much-loved birds, which are classified as "nationally endangered" with fewer than 5,000 individuals remaining.
DOC's Director Threats Amber Bill says DOC took a precautionary approach with A24 traps in kea habitat and delayed their use in places where there were concerns for kea.
"We used the advice of our scientists to work with Goodnature to develop a new and effective device as an additional precaution to keep kea safe. We're confident the new excluder will prevent them from being harmed by the traps.
"The excluders can be easily clipped onto traps and will be available next month. We will get them out on our traps as soon as we can after that."
The excluders will be fitted to about 3000 self-resetting traps on conservation land and will also be made available to community groups who are using self-resetting traps bought through the DOC community conservation fund.
Goodnature cofounder and Design Director, Robbie van Dam, says the clever kea created a great design challenge for the Goodnature team. "Kea are such an amazing bird: inquisitive, mischievous and incredibly intelligent. Any kea death is one too many so we wanted to lead the charge and create an excluder so they have additional protection.
"Kea need all the help we as a conservation community can provide. With the excluder in place we will be in a position to keep on top of stoats and hopefully help kea have significant breeding success this season."
The A24 automatic traps have been shown to be an effective tool for rat and stoat control under certain conditions. Because the traps self-reset 24 times before needing replenishing, they significantly reduce the labour required to manage traps and have the potential to reduce the long-term costs of DOC's trap networks. It is one of several types of trap DOC uses in its pest control programmes.
DOC is continually investigating ways to improve its predator control techniques to reduce the risk to non-target species.
---
Background information
DOC will initially be buying 5,000 parrot excluders to cover all the A24 traps currently or potentially in use by DOC and community groups at an approximate cost of $50,000.
DOC purchased about 2,700 A24 automatic traps as part of predator control programmes in Haast Kiwi Sanctuary and several Canterbury high country valleys in 2017. A precautionary approach was taken to limit traps to areas outside the alpine zone to reduce risk to kea.
Prior to this A24 traps had been used in kea habitat in Fiordland without incident.
Due to science advice that the traps posed a potential risk to kea, DOC undertook further assessment, including taking and analysing video evidence of kea interacting with A24 traps in the field and at a captive facility. Results confirmed a potential risk to kea.
As a result, DOC used alternative traps in Haast and Canterbury, while work was underway to develop a parrot excluder. DOC will roll out the new parrot excluders to A24 traps in kea habitat as soon as they are available next month.
Similar challenges emerged with use of the DOC-200 stoat traps in some areas where kea learned to get into the traps. The DOC-200 traps were subsequently modified and improved to prevent kea accessing and being killed in these traps.
Contact