DOC mourns colleagues after helicopter crash
Archived content: This media release was accurate on the date of publication.
Introduction
The loss of two colleagues is keenly felt around DOC today, as the men who died in Wanaka were well-known members of the DOC family.
Date: 19 October 2018
Paul 'Hondy' Hondelink (63) and Scott Theobald (59), along with pilot Nick Wallis, were on their way to undertake tahr control in the Haast area when their helicopter crashed.
Director General Lou Sanson says DOC is devastated by this loss.
"We're stunned and shocked. Our hearts go out to Paul and Scott's loved ones, who are grappling with an unimaginable loss.
"I also want to extend our deepest sympathies to the Wallis family. Nick and the family have been conservation champions and dear friends to the DOC team."

Paul 'Hondy' Hondelink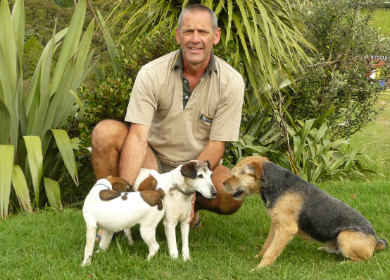 Scott Theobald
Image: Karen Vincent | DOC
Paul Hondelink worked for DOC since day one in 1987. He started as a programme manager in the Threats team in Wanaka, and pioneered Judas goat and tahr control work. Most recently he was working as a Senior Ranger, Biodiversity.
Paul was a critical part of NZ Police search and rescue, FENZ fire response, and a pillar of the Wanaka community.
Scott started with DOC in 1996 and was a world pioneer in the use of dogs to detect predators. His first use of predator dogs was at Trounson Kauri Park detecting stoats in 1998.
From his early work he developed the National Predator Dog programme in 2000, based in what was the Northland Conservancy. This grew into the Conservation Dogs Programme which combined Pest Detection Dog and Protected Species programmes.
Lou Sanson says, "We have lost so much. Paul and Scott have some of the most significant conservation experience in the country – if not the world. Thousands of native birds are alive because of them.
"Nick was a friend, who I stayed with just recently. Paul was a colleague of mine and we shared the experience of leaky tents throughout Fiordland and Rakiura, working to control deer numbers. Scott was a world pioneer in the use of predator detection dogs and one of the best pig hunters in the country."
DOC's focus is now on supporting the families and colleagues of staff lost in this tragedy, and tahr control operations are on hold.
"Paul and Scott went to work on Thursday for the same reason they did every other day, and the same reason Nick did – to make a difference in conservation."
DOC acknowledges the significant conservation contribution of the men lost in yesterday's crash, and reiterates our deepest sympathies to the families, colleagues and friends mourning with us.
Contact