Ant-detection dog gives Kāpiti Island the all-clear
Archived content: This media release was accurate on the date of publication.
Introduction
An expert sniffer-dog has scoured Kāpiti Island for any sign of Argentine ants and given it the all-clear.
Date: 28 November 2018
Specialist ant-detection spaniel Rhys-Jones and handler Brian Shields were drafted in from Auckland Council's biosecurity team. The Conservation Dogs Programme, supported by national partner Kiwibank has a total of 31 pest detection dogs with Rhys-Jones being the only Argentine ant dog.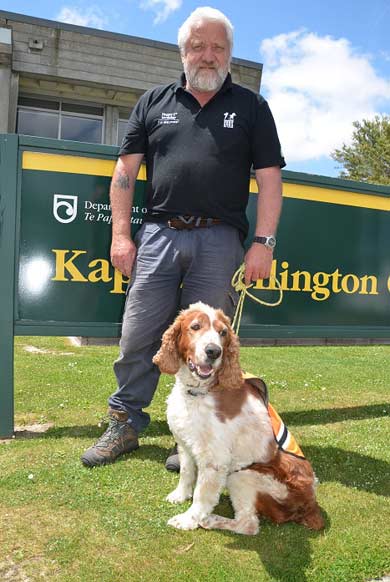 Rhys-Jones and handler Brian
Image: Lee Barry | DOC
The team were asked to check if the invasive ants had reached the Kapiti Island Nature Reserve after being found at the mainland stepping off point at Paraparaumu beach earlier this year.
Argentine ants are widespread on the Kāpiti Coast, but this nest was close to where Kāpiti Island tourism providers depart, increasing concerns that these ants could reach the native bird sanctuary.
The detection dog sweep was part of DOC's comprehensive plan to keep the nature reserve free of Argentine ants.
Brian and Rhys-Jones spent four days checking Kāpiti and Wellington's other pest-free islands, Matiu/Somes and Mana. No Argentine ants were found during the searches.
DOC's biodiversity ranger Colin Giddy says it's a great result and shows that the careful biosecurity checks undertaken by visitors, contractors and DOC staff are worthwhile.
"This is really pleasing, and a great relief. Everyone who has travelled to Kāpiti or our other pest-free islands should feel proud as they have helped keep these special places safe."
Aggressive and invasive, Argentine ants pose a serious threat to New Zealand's natural environment. They reach enormous numbers, which means they have a huge appetite. They can compete with kiwi and other native birds and lizards for food such as insects, worms and nectar. Other impacts include displacing and killing beneficial native insects.
To reduce the risk of ants transferring to Kāpiti Island Nature Reserve, DOC has contracted a pest control company to keep them in check at the Kāpiti Boating Club departure point. No ants were found within the controlled area at this site. However Rhys-Jones, whose nose is so keen he can detect a single ant, did find ants in nearby public areas.
Kāpiti Coast District Council and Greater Wellington Regional Council biosecurity staff are supporting an effort to create a larger buffer zone around the club, and have provided free ant surveillance and control for people who travel regularly to Kāpiti such as island staff and residents.
"The ants are now common along the Kāpiti Coast and many other parts of Wellington. That's just a given. What we can do is try to control their spread to this precious island. We will also have surveillance measures in place on the island so we can pick up any incursion quickly," says Colin Giddy.
"If they get to Kāpiti or one of our other pest-free islands, we can eradicate them – that's totally feasible. However robust quarantine measures to minimise the risk of them getting there is our first line of defence, with regular checks to ensure those defences are holding.
"It great to know that, with everyone's help, so far we are winning."
Contact