Virtual hub: Take a moment to notice nature
Introduction
Enjoy a virtual walk and soak in the views on the Kepler Track, or experience kākāpō and erect-crested penguins through the eyes of DOC rangers and scientists.
Take a moment to notice nature this Conservation Week by virtually soaking in the stunning views on the Kepler Track, one of Fiordland's Great Walks, or discover hidden kākāpō on Codfish and Anchor Islands and hard-to-reach penguin colonies on the subantarctic Antipodes.
You can access these experiences through your browser, phone, or a VR headset by using Google Earth. If you have any problems accessing the experiences through your browser, try using a different browser like Google Chrome.
Virtually walk the Kepler Track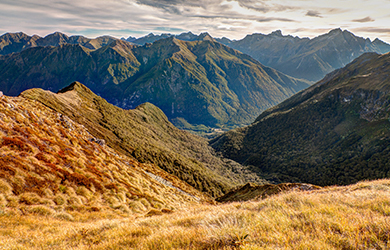 Kepler Track view. John Strother ©
Virtually walk past the beech-forested shorelines of lakes Te Anau and Manapouri, to tussock-covered ridgelines with spectacular alpine vistas – all without breaking a sweat.
The Kepler Track is one of DOC's 10 Great Walks. A 60 km loop, it is usually walked over 3–4 days. Explore the track virtually this Conservation Week and take a moment to soak in nature for your wellbeing.
Walk the Kepler Track in Google Earth
Find hidden kākāpō

Stella the kākāpō. Sabine Bernert ©

'Walk' in the footsteps of our kākāpō conservation team. Explore the remote Codfish and Anchor Islands to discover kākāpō hidden in the bush.
Each kākāpō has been fitted with a smart tracker which transmits their location and data about their health. Walk in our footsteps using the link below as we find them for their annual check-ups.
Find hidden kākāpō in Google Earth
Explore penguin colonies

Erect-crested penguins. DOC

Wander as a DOC scientist amongst our native penguins in this virtual visit of the subantarctic Antipodes. Can you tell an erect-crested from a rockhopper?
DOC scientists go to the Antipodes to count penguins when they come on land to moult and breed. They need keen eyes to only count one penguin type at a time. Explore the erect-crested penguin colony through a DOC scientist's eyes and see if you can spot any rockhoppers amongst them:
Explore penguin colonies in Google Earth
How to enjoy a virtual visit
After clicking on one of the links above, use the next arrow on the bottom left or the 'Start here' link on the right to begin. Use the arrows on-screen to move around each scene, click and drag your mouse to look around and zoom in or out using the mouse wheel.
You can also use Google Earth's phone app. Download it from your app store then use the links above on your phone to use it. Swipe up from the bottom image to learn about each scene, and down to close the panel and explore.
If you have an Oculus Rift or HTC Vive, download the Google Earth VR app to use your headset and controllers.