Introduction
Consider your site's characteristics to determine which pest-control method will get you to your goal efficiently and safely.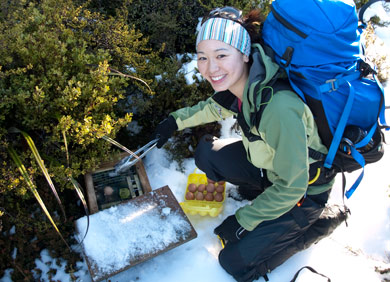 A volunteer replaces the lure in a DOC-200 trap
Image: Lauren Schaer ©
Examples of site-specific factors
Risks to non-target species (native and domestic)
Are there ground-dwelling birds present? Set bait stations and traps above ground level.
Is the site situated next to an urban area? Limit the risk to domestic animals that might encounter bait or traps.
If you need to control rats where weka are present use wekasafe baits such as coumatetralyl and racumin. Second-generation anticoagulants such as brodifacoum, Talon, Pestoff, Flocoumafen, Storm, or bromadiolone, can harm weka, even when used in houses.
Time of year
Is there an abundance of naturally occurring feed? Consider the effect on bait uptake or reschedule your operation.
Does your target pest species behave differently with the seasons? Consider operating when they're easiest to target.
Density of target pests
Are rat densities high? Use a toxin or self-resetting traps instead of single-trigger traps.
Do you have a good baiting strategy? Don't skimp, but don't waste bait through too-short baiting intervals.
Presence of multiple pest species
Do you have more than one pest species present? Consider which to target first or find methods to target multiple pests.
Public accessibility of the site
Does your plan pose a risk to the public's health and safety? Plan to limit it.
Is there a risk of people interfering with traps or bait stations? Put safeguards in place.
Skill level of the people involved
Are group members competent and aware of the risks? Get relevant training and use best practice to avoid making pests bait- or trap-shy or causing suffering.
Potential for re-invasion from the surrounding area
Is your site small or skinny, or surrounded by pest-dense areas? Take steps to protect borders.