Introduction
Myrtle rust is a wind-borne fungal disease that can infect taonga species such as mānuka, pōhutukawa and rātā.
The disease causes bright yellow-orange powdery pustules on young leaves, shoots, fruits and flowers of plants in the myrtle family.
Myrtle rust cannot be eradicated from Aotearoa. But there are things you can do to help us manage the impact and protect our taonga myrtle ngahere.
What to do if you see myrtle rust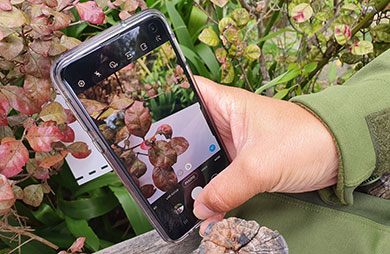 Taking clear photos of myrtle rust symptoms on ramrama.
Image: DOC

Don't touch.
Don't collect samples as this might spread the disease.
If you can, take a photo of the rust and the plant it's on.
Report symptoms to the iNaturalist website or via the iNaturalist app available in your devices app store.
If you accidentally come in contact with the affected plant or the rust, bag your clothing and wash your clothes, bags and shoes/boots when you get home.
Your reports of suspected cases are vital in helping determine where myrtle rust is in New Zealand, how far it has spread and whether eradication, containment or even slowing the spread is feasible.
The earlier we find out about any New Zealand infection, the greater our chance of doing something about it.
More information about what to do if you find myrtle rust.
If you find myrtle rust on public conservation land, contact your local DOC office.
What it looks like
Myrtle rust generally attacks soft new growth including leaf surfaces, shoots, buds, flowers and fruit.
Symptoms to look out for are:
bright yellow/orange powdery patches on leaves
brown/grey rust pustules (older spores) on older lesions
leaves that are buckled or twisted and dying off.


How the disease begins and forms - new yellow pustules and small brown spots


The lesions get bigger and produce masses of bright yellow spores
Why myrtle rust is a threat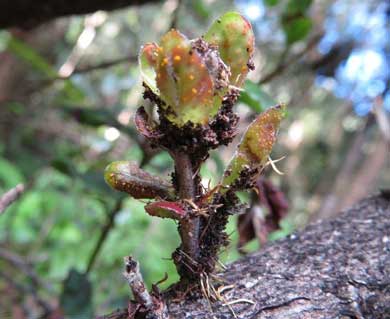 Shoots on pōhutukawa on Raoul Island affected by myrtle rust
Image: DOC
Myrtle rust could affect iconic New Zealand plants including pōhutukawa, mānuka, rātā, kānuka, swamp maire and ramarama, as well as commercially-grown species such as eucalyptus.
Myrtle rust attacks young, soft, actively growing leaves, shoot tips and young stems. Initial symptoms are powdery, bright yellow or orange-yellow pustules on leaves, tips and stems.
The developing lesions may cause a deformation of the leaves and shoots, and twig dieback if the infection is severe. It can also affect flowers and fruit. Infection may result in plant death.
Myrtle rust is notoriously difficult to control. However, it was caught early on Lord Howe Island and may have been controlled there. Unfortunately by the time that the rust pustules are visible on plants, spores are already spreading.
It will be extremely difficult to eradicate in New Zealand.
Where it's found:
in many parts of the world – the rust has rapidly spread on Australia's east coast
on pōhutukawa trees on Raoul Island – found in March 2017
on mainland New Zealand – first found in May 2017.
Myrtle rust (Austropuccinia psidii) is also known as guava rust and eucalyptus rust.
How it can spread
Myrtle rust spores are microscopic and can easily spread across large distances by wind. Myrtle rust is likely to be carried by wind to New Zealand from Australia, New Caledonia or Raoul Island.
We do not know where the rust has come from, and if it is the same type as that from Australia or New Caledonia. We need to still treat the rust in those countries as potentially different from that on Raoul Island or on mainland New Zealand.
Spores can also be transported on contaminated clothing, insects, rain splashes and equipment.
In January 2019, the Ministry for Primary Industries (MPI) found myrtle rust produced a teliospore stage in New Zealand. This spore stage is different from the asexual urediniopsore stage and indicates that the fungus is capable of reproducing sexually. Sexual reproduction introduces genetic variability, increasing the risk to New Zealand, as it allows fungi to adapt to new environments and possibly affect new hosts.
The asexual stage forms yellow to orange pustules whereas the presence of light to dark brown pustules might indicate the formation of the sexual stage.

Sexual and asexual pustules on M. communis
Image: Ministry for Primary Industries
Managing the threat
DOC is working closely with MPI to manage myrtle rust in New Zealand. Early detection of any outbreak in New Zealand will be vital to any attempt to manage it.
New Zealand already has stringent biosecurity measures to protect against myrtle rust introduction, including a complete ban on imports of cut flowers and foliage from myrtle species in New South Wales, Queensland and Victoria.
There are strict biosecurity procedures for DOC staff travelling between Raoul Island and the New Zealand mainland to prevent any people-assisted spread. Entry to the island is by permit only.
The Raoul outbreak will be used to learn more about myrtle rust – how it affects different species, trialling treatments and banking seed from local iconic species for future planting.
Beehive restrictions on public conservation land
DOC has put immediate restrictions on beehive movements on specific areas of conservation land in a bid to contain the spread of myrtle rust. The decision comes after research from Plant and Food indicates bees may be a vector for the spread of myrtle rust.
Research on beehives and myrtle rust
More about honeybees on conservation land
Where DOC is looking for myrtle rust
Myrtle rust has been found across most of the North Island and upper areas of the South Island.
Areas with myrtle rust infection identified by Biosecurity NZ prior to 30 June 2019 are yellow, orange or red blocks. Red dots are self-identified myrtle rust infections compiled from crowdsourced data.
Purple to blue blocks are areas with myrtle plants confirmed by Biosecurity NZ prior to 30 June 2019. Blue dots are myrtle plant locations compiled from crowdsourced data.
Note that not all myrtles in New Zealand are captured on this map and only myrtles that have been identified through Biosecurity NZ and crowdsourced data are listed. You can log your own observations on the inaturalist website.