Whio/blue duck recovery plan 2009-2019
Published:
December 2010

The plan focuses on retention of viable wild whio populations. Active management is needed to ensure the species' long-term survival.
Download the publication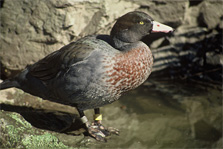 Blue duck/whio
Summary
The whio/blue duck (Hymenolaimus malacorhynchos) is an endangered species that is listed as Nationally Vulnerable under the New Zealand Threat Classification System (2008) due to a significant decline in abundance and distribution.
In 2009, the Department of Conservation finalised and published the second whio/blue duck recovery plan. The 10-year plan focuses on retention of viable wild whio populations throughout their natural range in the North and South Islands.
The plan sets out two key whio recovery priorities.
To secure populations to a minimum of 400 pairs at eight 'security sites' throughout New Zealand by 2014. To achieve this, the whio recovery work will control introduced predators, and target research towards gaining a further understanding of whio biology, threats and management requirements.

To recover or re-establish populations throughout their former range ('recovery sites'). The recovery work will continue to investigate translocation/re-establishment techniques and improved predator control management. Public awareness, education and community involvement are important tools that will be used to assist the recovery of whio.
Publication information
By Andrew Glaser, Paul van Klink, Graeme Elliott and Kerri-Anne Edge
© Copyright December 2010, New Zealand Department of Conservation
ISSN 1170–3806 (hardcopy)
ISSN 1170–3806 (web)
ISBN 978–0–478–14840–4 (hardcopy)
ISBN 978– 0–478–14841–1 (web PDF)
Threatened Species Recovery Plan 62.
Publication was approved by the General Manager, Research and Development Group, Department of Conservation, Wellington, New Zealand.
Contact
Science and Technical Publishing
Whare Kaupapa Atawhai / Conservation House Head Office
Phone:

+64 4 471 0726

Fax:
+64 4 471 1117
Email:
info@doc.govt.nz
Address:
18 Manners Street
Wellington 6011

Postal Address:
PO Box 10420
Wellington 6140

Full office details