Statement of Intent 2013 - 2017
Archived content: This information is no longer maintained. It is kept online for historical purposes.
Published:
2013

The Statement of Intent sets out the longer term directions for the Department of Conservation, as well as the management actions that will be undertaken in 2013.
Download the publication
Publication information
Presented to the House of Representatives pursuant to section 38 of the Public Finance Act 1989.
© Crown Copyright, May 2013, New Zealand Department of Conservation
ISSN 1175-5601 (print)
ISSN 1178-394x (online)
Contact
Whare Kaupapa Atawhai / Conservation House Head Office
Phone:

+64 4 471 0726

Fax:
+64 4 471 1117
Email:
info@doc.govt.nz
Address:
18 Manners Street
Wellington 6011

Postal Address:
PO Box 10420
Wellington 6140

Full office details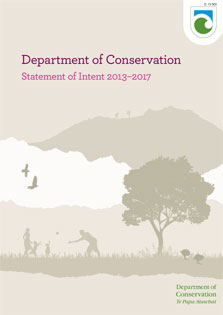 Cover of the Statement of Intent 2013-2017