Introduction
DOC and Fonterra are working together to improve the natural habitats within five catchments in significant dairying regions around New Zealand.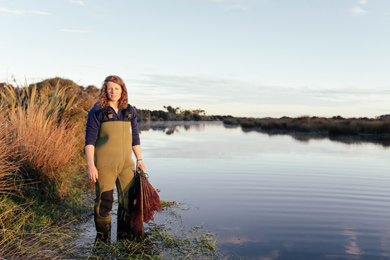 Nicki Atkinson (DOC) takes samples at Waituna Lagoon
Image: Living Water ©
DOC and Fonterra are investing $20 million over 10 years between 2013 and 2023.
We're trialling solutions to help improve freshwater ecosystems and accelerate environmentally sustainable farming in five significant regions around New Zealand.
Fonterra and DOC both recognise that fresh water and healthy ecosystems underpin New Zealand's environmental health, community well-being and economic prosperity.
Living Water is working with others to co-design solutions and:
try them out in five catchments
cost them
plan how to take them to scale across New Zealand.
The five catchments
Wairua River, Northland
Pūkorokoro-Miranda, Firth of Thames
Waikato Peat Lakes
Ararira-LII River, Te Waihora/Lake Ellesmere
Waituna Lagoon, Southland
For more information, see the Living Water website.