Historic Big River Quartz Mine
Introduction
This mine was one of the district's longest-lasting and most successful enterprises.
Although small by comparison with other mines in the Inangahua gold field, it often out-performed them in terms of financial returns to shareholders.
The mine operated from 1882 to 1942. From 1907 to 1924 operations were at their peak, and over 100 people lived in the isolated settlement 30km from Reefton.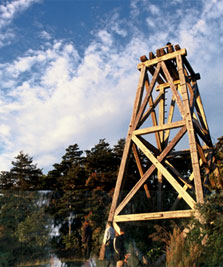 The poppet head
Today the relics around the mine and settlement sites are a source of fascination and a major attraction in Victoria Forest Park. In 2008 the area was registered as a Category I Historic Place. Of special note are the poppet head and winding plant.
Poppet head (c1895)
Perched on top of its mullock-covered hill, the impressive 12m structure stands over a 602m deep shaft. Ore was hoisted up the shaft and stored in bins to be processed. Waste rock was dumped nearby creating the mullock heap.
The Reefton goldfields were once abundant with such structures. Today this poppet head is the only surviving original on the West Coast and one of only two left in New Zealand, the other being at Oturehua in Central Otago.
Winding plant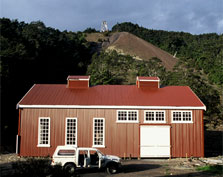 The re-constructed engine house
The winding engine is the only steam winder left in New Zealand with its boiler intact.
The engine house was the control hub for operations in the mine shaft. The steam driven winding engine lowered men and equipment into the mine and raised the gold-bearing quartz that was blasted from the underground reefs.
DOC's work
DOC has carried out a range of heritage work at Big River, including restoring the poppet head and re-constructing the engine house.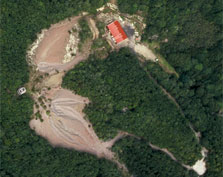 Aerial view of the poppet head, mullock
heap, and engine house
Further reading
Wright, Les. (1993) Big River, 1882-1942: A Worthwhile Speculation (Friends of Waiuta and Department of Conservation).
Wright, Les. (2000) Big River Poppet Head Conservation Plan (West Coast Conservancy, Department of Conservation).