Bird life increasing in the Heaphy valley
Introduction
Surveys from 2015 to 2019 have recorded numbers of nine native bird species increasing in the Heaphy valley, Kahurangi National Park.
Since 2013, we've increased the frequency of predator control in the Heaphy valley. We've been monitoring native birds each year since 2015 to assess whether this is making a difference for them.
We surveyed birds in the area for five years and have found their numbers are increasing. It seems intensive predator control is causing the upswing in birdlife although further monitoring is needed to be confident of this.
What the results show
The surveys show nine native birds have grown in number. We observed increasing numbers of korimako/bellbird, pīwakawaka/fantail, riroriro/grey warbler, kākāriki/parakeet, toutouwai/robin, tauhou/silvereye, miromiro/tomtit, tūī and weka.
Rarer birds such as kārearea/New Zealand falcon, fernbird, kākā, and kea were only occasionally observed although there was a promising increase in kākā seen in 2019.
DOC biodiversity staff surveyed birds using two different methods—five-minute bird counts and distance sampling. They monitored at over 100 fixed sample points within six grids in the valley. The five-minute bird counts are used to record all birds heard in five minutes, while the distance sampling is a snapshot of birds' presence and location, also within a five-minute period.
The detection rate for five bird species with notable increases over five years is shown on the graphs below: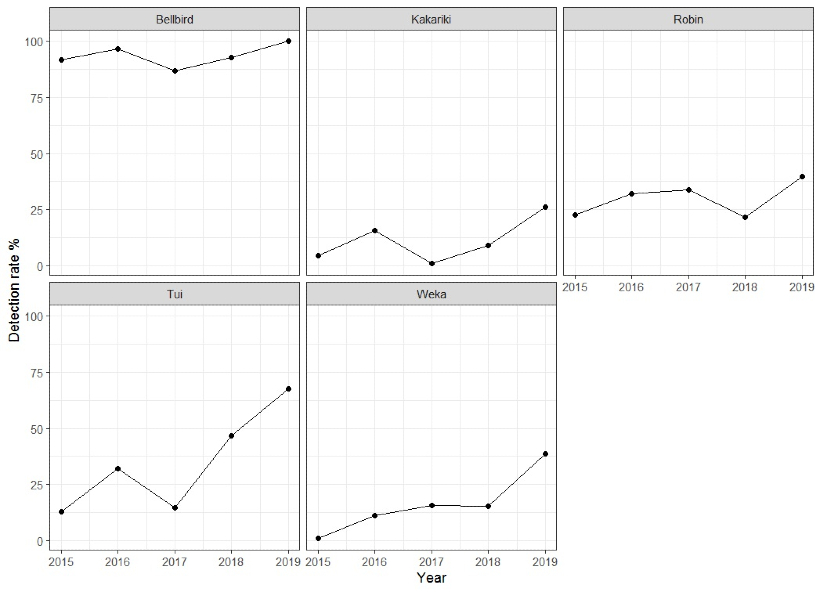 Graphs showing five birds survey results | See larger (Jpeg, 109K)
Read the Heaphy Management Area Bird Survey, 2019 report for more.
Work to enhance native species
This work is part of a 35-year project to enhance native plants and wildlife in an area of about 29,000 ha. A core area of 13,000 ha including the mid-lower Heaphy valley and Iwituaroa Range, is the focus of intense predator management.
This project is funded from Bathurst Resources Limited's 2014 compensation for the loss of biodiversity values from the Escarpment Mine operation on the Denniston Plateau.
Due to the warm conditions in the lower Heaphy, rats breed and rebound more quickly than in upland areas. DOC monitors the effectiveness of rat control after each operation and results for this site have varied.
Localised possum control began in the Heaphy valley in the mid-1990s and was ramped up in 2007 with the first largescale aerial 1080 predator control operation over the management area. Further operations occurred in 2012 and 2014 and annually since 2016. Future predator control is planned for 2021 as part of DOC's National Predator Control programme.