The Auckland Islands lie 465 km south of New Zealand's South Island within the New Zealand subantarctic islands area. A World Heritage Site (1998), the islands contain some of the world's most extraordinary natural heritage and include some of the world's least modified islands.
We have a vision of New Zealand's subantarctic islands area thriving, free of mammalian pests.
Project updates
View the Maukahuka project updates as web pages and downloadable factsheets.
---
Why aren't the islands thriving?
Feral pigs, cats and mice are present and have inflicted severe ecological damage over the past 150–200 years.
Comparison with pest-free Adams Island shows the severity of the detrimental impacts of pigs, cats and mice on Auckland Island.
Pigs have devastated floral communities, restricting understorey regeneration, seabird survival and recruitment; grossly lowered vegetation biomass and damaged soils.
Of the 44-bird species that breed in the archipelago only 12 native species persist on Auckland Island, none of which are endemic.
Pigs and cats have caused the local extinction of the rest of the bird species including the burrowing seabirds, majorly disrupting nutrient cycling.
Mice have altered the abundance and composition of invertebrate fauna, compete for food with native birds and pose a risk of future attacks on seabird chicks.
What will the Maukahuka project do to help?

This video is a summary of the project up to May 2019 and future plans
The Maukahuka project proposes to eradicate pigs, cats and mice from Auckland Island. This is to help native flora and fauna to recover and thrive so it can be preserved.
The project is a huge challenge. Mice and pigs have never been eradicated on an island anywhere near this large, and eradication of cats have only been attempted on one larger island, in Western Australia.
The objectives are aligned with the Predator Free 2050 initiative.
How will removing pests support the island?
Removal of all introduced mammalian pests from the islands will:
expand threatened habitats in the area from 30,500 ha to 76,500 ha and give native species more space to thrive.
offers protected breeding sites for 38 species of bird, including nine unique New Zealand species.
aid in the rapid recovery of 280+ species of native insects, 95+ of which are found only in New Zealand.
allow more insects to provide pollination and nutrient cycling that will help the recovery of 196+ species of native flora.
the recovery of species on Auckland Island can be expected to will disperse to neighbouring islands through natural processes.
make Auckland Island New Zealand's 5th largest island to become the largest pest-free island, requiring zero future investment on pest management (beyond biosecurity).
improve biosecurity protection for other island sanctuaries in the region.
Will the project work?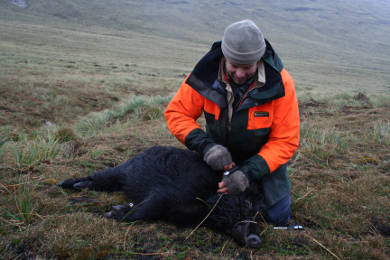 Fitting a transmitter to an Auckland Island pig during 2007 trials
Image: Nyla Strachan | DOC
To remove all pest from the island as the project proposes is a large and complex task. So to know if it will work, we need to test the feasibility of the proposal before we can know if it will be successful and if we should commit to it.
Information about our latest trials:
2018/19 summer trials
Summer trials investigated two questions: Is it possible and what will it take?
Site investigations for necessary infrastructure were undertaken.
A base camp was installed to support two of the research programmes.
The proposed methods for mouse and pig eradications were successfully trialled at Falla Peninsula.
Research was carried out into the behaviour of the cat population.
Sites and species for monitoring the biodiversity impacts of the programme were selected and set up.
2019 winter trials
Some questions remained unanswered and new ones arose after the summer trials. A team spent six weeks on Auckland Island to:
Add more cats to the monitored population to understand their use of habitats and food resources
Test new technologies including thermal trail cameras and long life lure dispensers
Trial the attractiveness of new cat-specific baits
Install new infrastructure to support operations
What happens after the trials?
An analysis is underway of the winter research trip results. These will be incorporated into a feasibility report which will then be presented to DOC's Island Eradication Advisory Group and the project governance group.
Funding and support will need to be sourced both from the government and partner organisations. The project has so far been awarded $800,000 from the initial round of the International Visitor Levy fund.
A decision whether to transition from the feasibility stage into detailed operational planning will happen around October 2019.
To find out more or to get involved in the project, contact maukahuka@doc.govt.nz.
---
About the islands
Auckland Island (46,000 ha) is the main island of the Auckland Island group (57,000 ha). The Auckland Island archipelago is the largest and biologically richest of the five island groups that make up the New Zealand subantarctic islands area (76,500 ha). Auckland Island is the only site within this area where mammalian pests remain.
Auckland Island is approximately 43 km long at its longest point, 27 km wide and has a coastal perimeter of 374 km. The terrain is typically mountainous with peaks up to 650 m high. Its western side is dominated by formidable cliffs up to 400 m high carved by the pounding seas. The eastern side is a series of deeply incised cirques and glacial fiords, which are considerably more sheltered than the west. Two large harbours, Port Ross at the northern end, and Carnley Harbour in the south, and some of the narrow inlets on the eastern side, usually offer sheltered anchorage.
Infrastructure is limited to a Smith Harbour base camp which can accommodate seven people, an old six bunk hut at Deas Head and several derelict historic structures. The climate is persistently wet, cold and windy.