Published:
2013

Read stories from the interpretation panels at the Denniston Coalmining Historic Area in an ebook.
Download the publication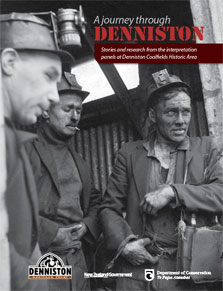 A journey through Denniston cover
View the ebook: A journey through Denniston ebook (PDF, 10,109K)
Note: this ebook is a large file.You will need Adobe Reader version 10 or above to view it. You can download Adobe Reader for free from www.adobe.com,
View in smaller files
You can also view the information in smaller PDFs and use any Adobe Reader version to view them.
Denniston interpretation panels
The images and text from the interpretation panels at DOC sites on Denniston tell stories of the rich history associated with mining coal on the plateau, with an emphasis on the people who lived and worked there.
The panels evoke a strong sense of place, revealling the ebb and flow of life of this unique coal field community from its beginnings in 1878 through to the current day. They also tell of traditions born of coalmining culture that has created a distinctive sense of identity that still persists in the local West Coast community.
Originally designed to complement the walks and tracks on site at Denniston, the panels have been re-formated in this publication to enable history of this special place to be shared more widely.
Publication information
Author: Text and orginal design, Janet Bathgate Designs
Editing and re-formatting: DOC Publishing Team, National Office.

---
Viewing files on this page
If you can't view these files contact us to request another format.
---