The project was developed by DOC in 2013 and is supported by Kathmandu.
Project goals

Regan Russell from Ecoworld showing tuatara to campers
The Momorangi conservation project aims to restore the missing canopy tree species of Momorangi Bay.
The project also has a strong education focus. Campers at Momorangi Bay campground, along with local community and day visitors, can learn more about conservation through fun activities and interactive resources.
There are opportunities to volunteer to help restore forest in the reserve behind the campground, such as helping with trapping, sponsoring a tree, planting and assisting in weed control.
Get involved
Go on the mailing list to find out what's happening. Email picton@doc.govt.nz with Momorangi Conservation Project in the subject line to be added to the list.
Contact the DOC Waitohi / Picton Office on +64 3 520 3002 or Momorangi Bay camp managers Wayne and Helen Foley on +64 3 573 7865 to offer your enthusiasm and time.
History of Momorangi Bay
A succession of Māori tribes inhabited the area for several hundred years before the arrival of Europeans. Kaainga (villages) were situated in nearby Ngakutu Bay and Anakiwa. Maori probably utilised Momorangi Bay for food gathering and possibly temporary settlement. "Momorangi" means 'myraid of descendants from the heavens'. Due to significant earthworks in the mid to later part of the 20th century no evidence of occupation now exists.

Kiri the kanuka, Momorangi's mascot
In the 1861 a timber mill was built at nearby The Grove amongst a stand of giant kahikatea and soon all the mature trees were harvested. The discovery of gold in 1864 bought 1,000s of Europeans to the Grove and Mahikapawa Arms. The gold and timber didn't last long and small scale farming took over in the 1870s and 1880s.
Momorangi Bay has a long history of farming and most of the slopes were in grassland. Repeated burning was required to keep the persistent scrub (manuka and kanuka) at bay. Farming ceased farming in 1954 when the hillslopes (247 ha) were gazetted for a scenic reserve between 1954 and 1963. The flat ground (6.5 ha) was created a recreation reserve at a similar time and became a popular camping ground.
Momorangi Bay Campground has become the quintessential kiwi holiday for many, with families returning year after year.
Flora and fauna

Investigating insects
Since farming ceased in the mid 1950s, the forest has rapidly regenerated with predominantly manuka on the higher slopes and kanuka on the lower slopes. Species such as five finger, mahoe, kamahi, kohuhu, rangiora and ponga are present under the manuka or kanuka canopy.
In the damper gullies the manuka has been replaced by broadleaved species including isolated titoki and pukatea. A small patch of hard beech on the eastern side of the bay are likely to be from one remaining mature beech tree. This beech tree shows evidence of being burnt so may have been part of the original forest.
In the wider Grove Arm area there are pockets of remnant forest which provide clues that Momorangi Bay would have been covered by mixed podocarp and beech forest. Hard beech would have been predominant on most slopes and ridges, black beech on coastal spurs and headlands, pukatea and tawa in gullies, and kahikatea, pukatea and tawa on swampy alluvial flats. There are two swamp maire just outside the reserve at the Grove, constituting one of only two known localities of this species in the South Island. It is likely that swamp maire was formerly common on the swampy flats.
Succession of a regenerating forest
The likely successional trends are for manuka and kanuka scrub and low forest to be replaced by broadleaved species beginning as subcanopy species, and eventually outcompeting the scrub. Later to establish are the taller emergent species like rewarewa, rimu, totara, matai and kahikatea.
Understanding natural processes of succession is helpful when restoring forest. Unfortunately natural regeneration relies on a full suite of species to be available nearby as a source for seed. Many of the canopy and emergent species in Momorangi Bay are very rare or missing so regeneration has stalled. To restore the ecosystem fully, these species are being introduced back into the system.
Birdlife
Momorangi forest is inhabited by good populations of common native species such as:
Around the Momorangi coast the following species can also be found:
white-faced herons
pied shag/kāruhiruhi
little shags/kawau paka
black-backed gulls/karoro and red-billed gulls/tarāpunga
Download the Common Birds of Marlborough Sounds (PDF, 4, 964K) brochure to help you spot some of these species on your next trip to Momorangi.
Threats
While the reserve has vegetation cover of predominantly manuka, further regeneration has stalled due to:
lack of seed of canopy tree species, such as beech, swamp maire/maire tawake, rimu, kahikatea and tree fushia/kōtukutuku
introduced pests such as rats, possums, goats and pigs impeding the regeneration of the native vegetation, and predators such as stoats and rats preying on native fauna
weed infestation by species such as old man's beard and banana passionfruit, which outcompetes or smothers native vegetation.
Weeds
Weeds are a major management problem in Momorangi Bay.
Wilding pines are considered one of the biggest threats to the regeneration of the forest. Wilding pines are self-seeded pine seedlings from a number of different species; the most common in Marlborough Sounds is Pinus radiata. They are of particular concern in young, regenerating forest where light allows them to germinate. Control requires 'drill and fill method – drilling a series of holes around the truck and filling it with herbicide. The tree disintegrates gradually over time which avoids any land disturbance or damage to surrounding vegetation during control.
Marlborough Sounds Restoration Trust has been instrumental in reducing wilding pines in the Marlborough Sounds. In 2013 the Trust joined forces with Kathmandu, where Kathmandu employees can make donations through the 'Share the Dream' programme. This has directly resulted in wildings being poisoned in Momorangi Bay, as well as contributing to control in Queen Charlotte Sound.
Climbing vines such as old man's beard and banana passionfruit inhibit growth of native trees through smothering and out-competing the forest. Gorse, broom and Spanish heath is common but it is not likely to persist as native plant regeneration advances, except on the forest edges and natural light gaps where they may prevent native regeneration of shrubby species.
Animal pests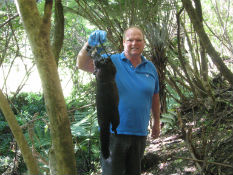 Trapping possums
Predatory pests such as possums, rats and stoats eat the eggs and young and attack the adults. They may also outcompete native species by eating their food source, eg insects and lizards, seeds and berries.
Grazers and browsers include goats and deer. Goats in particular are having a large impact on regeneration of native plants. Goats will eat the foliage of most trees and plants and quickly destroy all vegetation within their reach, eating seedlings, saplings and litter-fall off the forest floor.
Pigs can also be a problem, feeding on invertebrates, seeds and seedlings and disturbing the forest floor.
Momorangi Forest Experience
Time: 20 min return
This is a short loop walk through regenerating forest. Take some time to enjoy the interactive interpretation. Access from the end of the Momorangi Bay campground road.