About the process
The Ngati Porou Claims Settlement Act 2012 requires DOC and TRONPnui to prepare nga Whakahaere Takirua, in consultation with the East Coast Hawke's Bay Conservation Board.
The process for preparing nga Whakahaere Takirua is set out in sections 25 to 31 of the Ngati Porou Claims Settlement Act 2012.
Nga Paanga Whenua o Ngati Porou
Nga Paanga Whenua o Ngati Porou are 22 areas of conservation land in the East Coast region within the Ngati Porou rohe, which are held in public ownership and managed by DOC. The Crown acknowledges the cultural significance to Ngati Porou of nga Paanga Whenua o Ngati Porou as the ancestral lands over which Ngati Porou exercises mana in accordance with Ngati Porou tikanga.
Nga Paanga Whenua o Ngati Porou include:
Ahikouka Conservation Area
Anaura Bay Recreation Reserve
Henri Loisel Scenic Reserve
Hicks Bay Local Purpose Reserve
Hicks Bay Conservation Area
Kopuapounamu Conservation Area
Littleworths Conservation Area
Makaramea Scenic Reserve
Mangaharei Stream Local Purpose (Soil Conservation and River Control) Reserve
Mangaharei Local Purpose (Water Supply) Reserve
Marginal Strip Conservation Area
Norma Leonie Shelton Scenic Reserve
Nuhiti Q Scenic Reserve
Okitu Bush Scenic Reserve
Part Raukumara Conservation Park
Part Raparapaririki Conservation Area
Taurangakautuku River No.1 Marginal Strip
Taurangakautuku River No.2 Marginal Strip
Teritua Conservation Area
Tokomaru Forest Conservation Area
Waipare Scenic Reserve
Potaka Conservation Area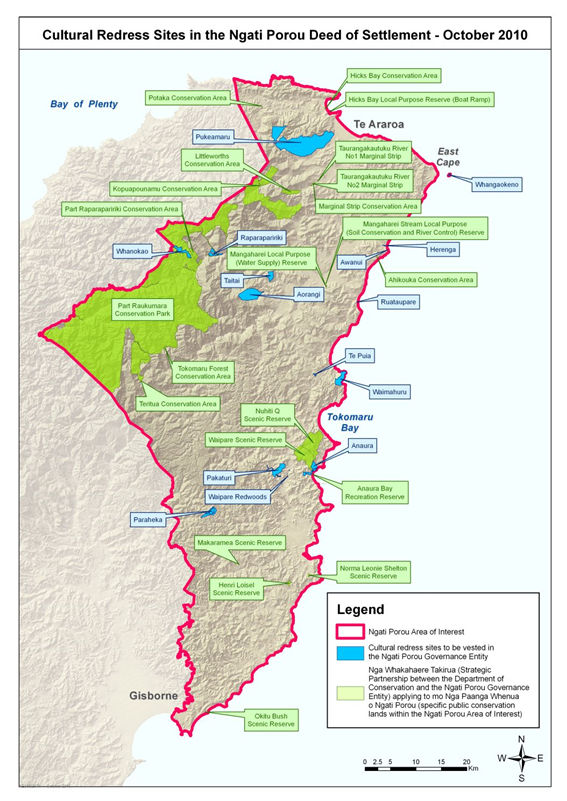 June 2019 update
The co-authored CMS is being developed by a cross-functional project team from TRONPnui and DOC to integrate the management of natural and historic resources of Nga Paanga Whenua o Ngati Porou.
The project is currently at drafting stage of the CMS development process and we have planned for public notification early 2020.
For further information about the CMS project, contact:
Chris Visser, Statutory Manager, Lower North Island, Department of Conservation
Email: cvisser@doc.govt.nz