In the "Pāteke survival guide"
Originally pāteke were widespread and abundant in wetlands and forests of the three main islands and were possibly the most common waterfowl species in New Zealand. Reports of birds being abundant were frequent, e.g. in 1925–30 at Whangarei " a stretch of about a third of a mile (500 m) upstream of Mangere Falls carried about 500 teal and old-timers said there had been more." (Notornis 18 [1971]: p 283.
Since the 19th and early 20th centuries, the population has declined dramatically due to habitat loss, predation and probably excessive hunting in some areas. Disease has also been suggested as a contributing factor. Pāteke disappeared from the eastern South Island soon after European settlement, but held on in Fiordland until recently, where a few birds may still persist. They disappeared from Stewart Island in the 1970s.
In the North Island the decline was more protracted with populations holding on in the 1960s throughout most of Northland between the Whangarei Harbour-Waipu area and Cape Reinga. Many birds were also seen in the Waikato and Coromandel during this period. By the late 1980s the range of the Northland population had contracted to the area from Whananaki to Russell Peninsula, and by the late 1990s the Russell Peninsula population had been decimated. Currently (2011) the bulk of the Northland population is restricted to the Teal Bay-Mimiwhangata-Whananaki area with a few birds occurring south to the Ngunguru area and north to Russell Peninsula. Current flock counts are reaching those seen in the early 1990s, due to predator control and management in the Teal Bay- Mimiwhangata-Whananaki area.
The population on Coromandel Peninsula is recovering due to predator control and reintroductions of captive-reared birds. Elsewhere in the North Island, small numbers of birds are seen in many areas, e.g. Manawatu-Horowhenua, probably stemming from past releases and/or dispersal from islands.
On Great Barrier Island there was an apparent initial increase in pāteke numbers during the 20th century, possibly stemming from clearing of forest for pasture in low-lying areas, which created suitable habitat for pāteke. However, this was followed by a population decline in the 1990s apparently as a result of predation pressure and a change in habitat management. In the early 2000s, this decline was arrested by intensive predator control and the population now appears to be relatively stable.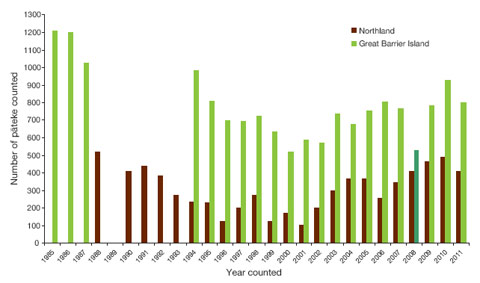 Annual census counts showing number of pāteke counted at all known flock sites at Northland (1988, 1990-2011) and on Great Barrier Island (1985-1987 and 1994-2011).