In the "Pāteke survival guide"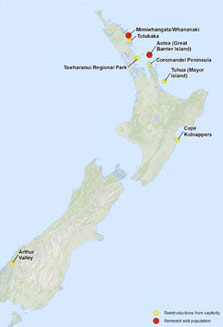 Map of current pāteke distribution
Currently there are three concentrations of wild pāteke in northern New Zealand, and many small populations mainly on islands. The key populations are:
Great Barrier Island (Aotea)— throughout the island, with highest numbers in the Okiwi- Whangapoua catchment.
Northland—currently extending between Bay of Islands and Ngunguru, with highest numbers in the Teal Bay-Mimiwhangata-Whananaki area.
Coromandel Peninsula—recently reintroduced population in the Port Charles-Waikawau Bay area.
Over 400 birds occur in each of these populations, but precise numbers are difficult to determine because of their secretive nature.
Minimum counts completed in 2011 (and very approximate total estimates in parentheses) are: Northland 408 (600), Great Barrier Island 803 (1000), Coromandel 321 (400).
Other much smaller island populations occur on the following islands: Hauturu (Little Barrier Island), Tiritiri Matangi, Kawau, Tuhua (Mayor Island), Mana and Kapiti; and also at Karori Wildlife Sanctuary in Wellington.
An important captive breeding population is being maintained by breeders around the country from Dargaville to Invercargill. Birds bred in captivity are being used to reestablish populations around New Zealand, including Coromandel Peninsula, Cape Kidnappers, Tawharanui Regional Park, Tutukaka Coast and Arthur River in Fiordland.