Introduction
A fundraising initiative called Flight Path was created by Christchurch Helicopter owners and pilots Terry Murdoch and Richie McCaw. Their aim is to support the little local battler – the orange-fronted kākāriki.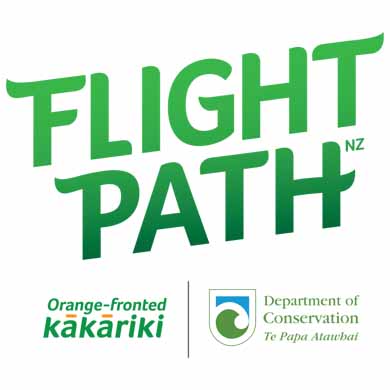 Who they are
Flight Path is a fundraising initiative for businesses in Christchurch and Canterbury to get behind the recovery of a little Canterbury battler – the orange-fronted parakeet/kākāriki karaka (or orange-fronted kākāriki). The programme was created by Christchurch Helicopters owners and pilots, Terry Murdoch and Richie McCaw.
What they do
Christchurch Helicopters has been working with the DOC recovery team for several years and wanted to put more effort into supporting great outcomes for this fantastic little bird – the rarest parakeet/kākāriki in New Zealand. With fewer than 400 birds left in the wild, they need all the help they can get.
Orange-fronted kākāriki are only found naturally within Arthur's Pass National Park and Lake Sumner Forest Park. There are four known remaining populations all within a 30 km radius of each other. Monies fundraised by Flight Path will help reverse the declining population by increasing predator control, support captive breeding programmes and help maintain extensive monitoring. This is in addition to transporting DOC's teams throughout the region so they can deliver this critical work.
Christchurch Helicopters network of business colleagues, as well as visitors to the region who use their services, helps to raise awareness and get funds. Flight Path has the long-term goal of raising more than $1 m over 5 years.